21julAll DayJamey Aebersold's BirthdayMan of Music 2009
Event Details

Jamey Aebersold was born on July 21st, 1939.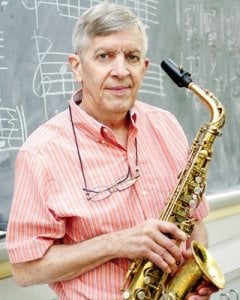 Brother Aebersold was initiated into the Gamma Omega Chapter at Indiana State University in 1976 and is a renowned American jazz saxophonist, educator, and publisher.
In 1967, Aebersold released the first book in his "Play-A-Long" series, a world-renowned series of jazz instructional books that are considered standard for most jazz educators. In his books, he touches on techniques that are regarded as essential building blocks for most jazz musicians. In addition to his series of instructional books, Brother Aebersold has taught musical improvisation at the University of Louisville, where he also hosts a summer jazz workshop that he has led for over fifty years now. At his camp, young jazz students are exposed to master classes, ear-training sessions, jazz theory, and concerts put on by the faculty and the nation's leading artists. With his years of experience in leading workshops and teaching all levels – from novice to pro, it is clear to see why Aebersold is the world leader in jazz education.
For his dedication to the art form and tireless promotion of American music, Jamey Aebersold was awarded Phi Mu Alpha's "Man of Music" award at the 54th National Convention in Orlando, Florida in 2009.