FAMOUS SINFONIANS
Meet the men of Phi Mu Alpha who have made impacts, forged milestones, and strove for the highest standards in music and beyond.
Throughout its history, Phi Mu Alpha has been an integral part of the broader history of the United States in nearly every aspect.
Each man is u
nited by one Brotherhood, in music, for the betterment of all.
Ben Folds - Beta Tau - 2015

Ben Folds is widely regarded as one of the major music influencers of our generation.

He's created an enormous body of genre-bending music that includes pop albums with Ben Folds Five, multiple solo albums, and numerous collaborative records. His last album was a blend of pop songs and his Concerto for Piano and Orchestra that soared to #1 on both the Billboard classical and classical crossover charts. For over a decade he's performed with some of the world's greatest symphony orchestras and currently serves as the first-ever Artistic Advisor to the National Symphony Orchestra at the Kennedy Center.

In addition to solo rock and orchestral touring, Folds recently wrote a critically-acclaimed memoir "A Dream About Lightning Bugs," which debuted as a New York Times Best Seller, and is described as a collection of interrelated essays, anecdotes and lessons about art, life, and music.

He is also no stranger to television, having been featured for five seasons as a judge on NBC's critically-acclaimed a capella show "The Sing Off." He continues to appear in cameo roles on cable and network TV shows, and composes for film and TV.

An avid photographer, Folds is a member of the prestigious Sony Artisans of Imagery, has worked as an assignment photo editor for National Geographic, and was featured in a mini-documentary by the Kennedy Center's Digital Project on his photographic work.

An outspoken champion for arts education and music therapy funding in our nation's public schools, in 2016 Ben held the distinction as the only artist to appear at both national political conventions advocating for arts education, has served for over five years as an active member of the distinguished Artist Committee of Americans For The Arts (AFTA), and serves on the Board of AFTA's Arts Action Fund. He is also Chairman of the Arts Action Fund's ArtsVote2020 national initiative to advocate for a greater commitment to the nation's creative economy through improved public policies for the arts and arts education, and hosts a podcast series of interviews on arts policies with 2020 candidates.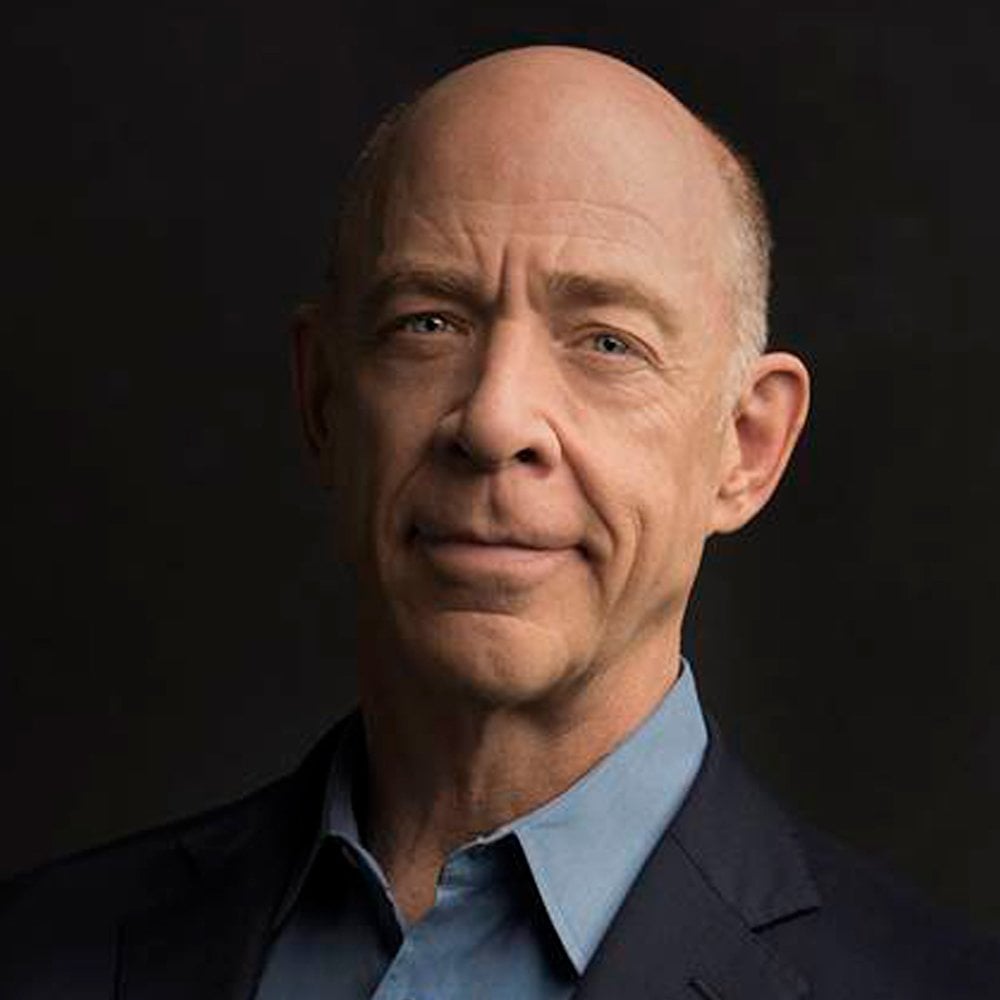 J.K. Simmons - Delta Theta - 1975

Jonathan Kimble Simmons was originally a singer, with a degree in music from the University of Montana. He turned to theater in the late 1970s and appeared in many regional productions in the Pacific Northwest before moving to New York in 1983. He appeared in Broadway and off-Broadway shows and also did some television — his early roles included the portrayal of a white supremacist responsible for multiple murders in an episode of Homicide: Life on the Street. In that same vein, Simmons first gained wide exposure as Vern Schillinger, the leader of an Aryan Brotherhood-type organization in prison in the HBO series Oz.

Parlaying his small-screen notoriety into feature film opportunities, Simmons had a small part in the 1997 thriller The Jackal and played a leading role in Frank Todaro's low-budget comedy Above Freezing, a runner-up for the most popular film at the 1998 Seattle Film Festival. Also in 1997, Simmons increased his television prolificacy by taking on the role of Dr. Emil Skoda, the consulting psychiatrist to the Manhattan district attorney's office in the series Law and Order.

By 1999, Simmons was showing up in such prominent films as The Cider House Rules and the baseball drama For Love of the Game, directed by Sam Raimi. The director again enlisted Simmons for his next film, 2000's The Gift. After a supporting turn in the disappointing comedy The Mexican, Simmons teamed with Raimi for the third time, bringing cigar-chomping comic-book newspaperman J. Jonah Jameson screaming to life in the 2002 summer blockbuster Spider-Man. In 2004, he would reprise the role in the highly anticipated sequel, Spider-Man 2. That same year, along with appearing alongside Tom Hanks in the Coen Brothers' The Ladykillers, Simmons continued to be a presence on the tube, costarring on ABC's midseason-replacement ensemble drama The D.A.

His career subsequently kicking into overdrive, the popular character actor was in increasingly high demand in the next few years, enjoying a productive run as a voice performer in such animated television series' as Justice League, Kim Possible, The Legend of Korra, and Ultimate Spider-Man (the latter of which found him reprising his role as J. Jonah Jameson), as well as turning in memorable performances in Jason Reitman's Juno, Mike Judge's Extract, and as a hard-nosed captain in the 2012 crime thriller Contraband. Meanwhile, in 2005, he joined the cast of TNT's popular crime drama The Closer as Assistant Chief Will Pope — a role which no doublt played a part in the cast earning five Screen Actors Guild Award nominations for Best Ensemble Cast.

Simmons continued to work steadily in movies, returning to the Spider-Man franchise in 2007. That same year he co-starred as the father of a pregnant teen in Juno, which led to him being cast regularly by that film's director Jason Reitman in many of his future projects including Up In the Air and Labor Day. It was Reitman who got Simmons the script for Whiplash, Damien Chazelle's directorial debut. The actor took the part of an abusive, but respected music teacher and the ensuing performance garnered Simmons multiple year-end awards including a Best Supporting Actor nomination from the Academy.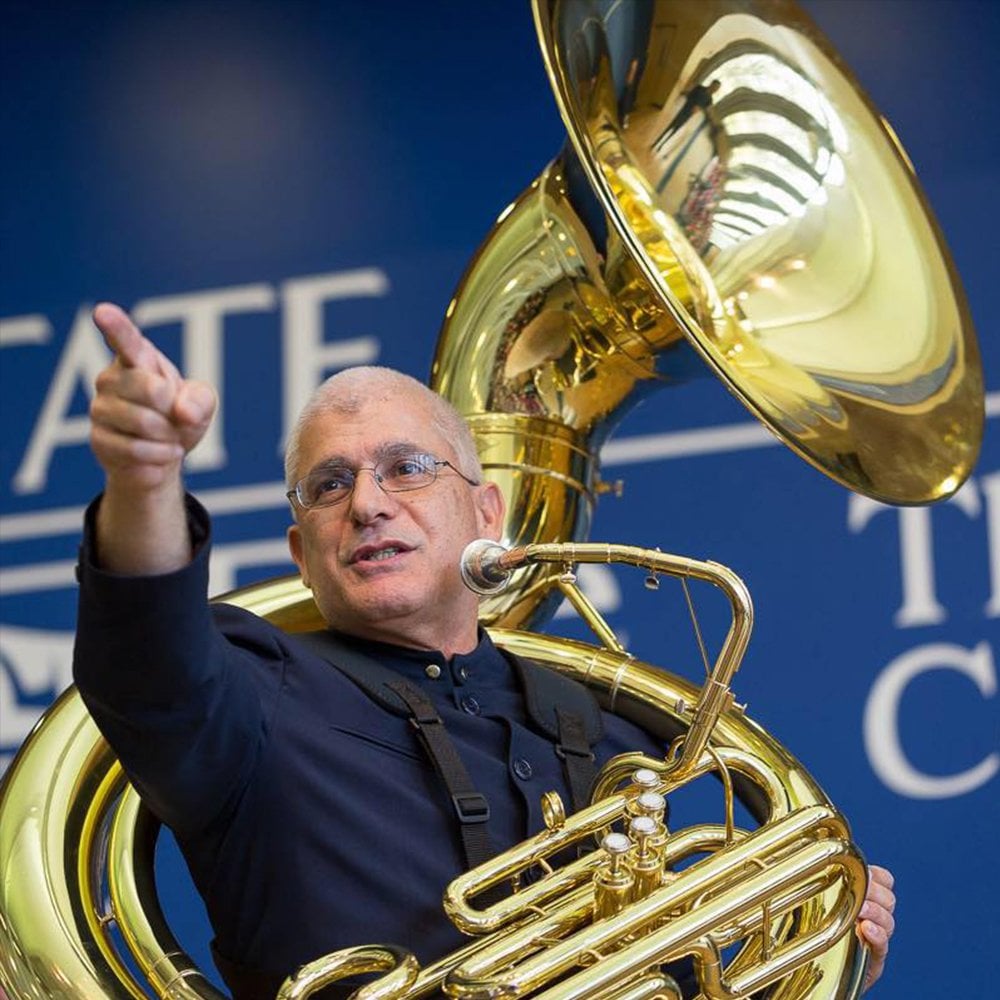 J. Samuel Pilafian - Beta Tau- 1969

Tubist Samuel Pilafian was noted for having achieved a degree of fame on an instrument that usually fills an accompanimental role. Equally noteworthy, however, was the ease with which Pilafian moved between classical music and pop.

A native of Miami, Pilafian started early on the tuba. He attended the National Music Camp in Interlochen, Michigan, becoming only the second tuba player in history to win the school's concerto competition. That propelled Pilafian to scholarships at Dartmouth College and the Tanglewood Music Center in Massachusetts. While he was studying in the latter program, he was selected by Leonard Bernstein to perform in the world premiere of Bernstein's Mass, which was simultaneously part of the opening ceremonies for Washington, D.C.'s John F. Kennedy Center for the Performing Arts.

With his performance of that thoroughly eclectic composition as a starting point, Pilafian developed dual careers. In the classical sphere, Pilafian was best known as a founding member of the Empire Brass Quintet. He also performed and recorded with the Boston Symphony, the New York Philharmonic, the Orchestra of St. Luke's, and the Metropolitan Opera Orchestra. Pilafian played recitals and made orchestral appearances in Canada, Spain, Sweden, Switzerland, Japan, Italy, Austria, Germany, and England. He served on the faculties of Boston University and the Boston University Tanglewood Institute, and was a consultant at the Royal Academy of Music in London before joining the faculty at Arizona State University in 1994. Pilafian released 12 solo albums as a jazz performer and recorded with the Duke Ellington Orchestra. With guitarist Frank Vignola, Pilafian formed the jazz duo Travelin' Light, which released three discs on the Telarc label. While many classical artists have ventured into jazz with notable success, few diverged as far from their original training as Pilafian. He recorded with the rock group Pink Floyd, and under the designation of the Pilafian Project he recorded an experimental mix of tuba sounds that transcends genre categories. An example is the 1998 album Meltdown, which includes music by composers such as Bartók, Sidney Bechet, Ornette Coleman, Ravel, and Captain Beefheart. A past president of T.U.B.A. (the Tubists' Universal Brotherhood Association), Pilafian served as chairman of that group's board of directors. Pilafian passed away in April 2019 from colon cancer.
Charles Johnson - Zeta Rho - 1953

Dr. Charles Johnson was initiated as a charter member of the Zeta Rho Chapter at Fisk University in 1953. Regarded by many as "the nation's foremost scholar in the field of Black Sociology," Brother Johnson devoted most of his life to the field of sociology and in 1948 was appointed the first black president of Fisk University.

As a renowned American sociologist and college administrator, Johnson was an outspoken civil rights activist and advocate for racial equality of not only African Americans but all ethnic minorities. During his early life and education, he earned an undergraduate and graduate degree in the field of Sociology, served in France during World War I, and was appointed Director of Research and Investigation of the National Urban League in New York City. It was in this position that he founded its magazine, Opportunity.

In 1928, Dr. Johnson made the move to Fisk University to continue lifelong research and became the chairman of the Department of Social Sciences. It was through innovative research and his series of seminars known as the Race Relations Institute that he was able to generate proactive discussion on issues of economics, education, government policy, housing, employment, and semantics. These "think-tank" discussions allowed Johnson to draft strategies for change, such as training black veterans returning from the war and bringing an end to segregation in public schools, League of Women Voters, and the armed forces at large.
Thomas Dewey - Epsilon - 1920

Thomas E. Dewey was born on March 24, 1902, at Owosso, Mich. In 1923 he received his bachelor of arts degree from the University of Michigan. After briefly studying music and law in Chicago, he entered Columbia University Law School. After his graduation in 1925, he toured England and France. Returning to New York, he entered the state bar, accepted a clerkship in a law office, and became active in the Young Republican Club. In 1928 Dewey married Frances E. Hutt; they had two children.

In 1931 the U.S. attorney for the Southern District of New York appointed Dewey his chief assistant. In addition to fundamental honesty and natural courage, Dewey possessed a capacity for careful and deliberate case preparation and an amazing self-control that enabled him to remain cool under pressure. With the resignation of the U.S. attorney in November 1933, Dewey took that position—at 31 the youngest U.S. attorney ever. When President Franklin D. Roosevelt appointed a Democrat to the position 5 weeks later, Dewey returned to private law practice. In 1935 he was appointed special prosecutor for the Investigation of Organized Crime in New York. His campaign against narcotics and vice racketeers obtained 72 convictions in 73 prosecutions. In 1937 he was elected district attorney for New York County.

In 1942 Dewey was elected governor of New York. He quickly established a reputation for political moderation and administrative efficiency, enjoying cordial relations with the legislature. Success as governor, added to his reputation in fighting New York racketeers, sent Dewey's political stature soaring. In 1944 he was the Republican party's presidential nominee. He ran well, despite Roosevelt's record as a war leader and Dewey's lack of experience in international affairs. Reelected governor of New York in 1946, he proceeded to ram a series of liberal laws through the legislature.

As the acknowledged front-runner in his second presidential campaign—against Democrat Harry Truman in 1948—Dewey refused to tax himself, made only a few speeches, avoided controversial issues, and scarcely recognized the opposition. He lost to Truman by a narrow margin. In 1950 he was elected to his third successive term as New York's governor.

At the suggestion of State Department adviser John Foster Dulles, Dewey visited 17 countries in the Pacific in 1951. In 1955 he reentered private practice with the New York firm of Dewey, Ballantine, Bushby, Palmer, and Wood. By 1957 Dewey had been awarded 16 honorary degrees. His books include The Case against the New Deal (1940), Journey to the Far Pacific (1952), and Thomas E. Dewey on the Two Party System (1966). He died on March 16, 1971, at Bal Harbour, Fla.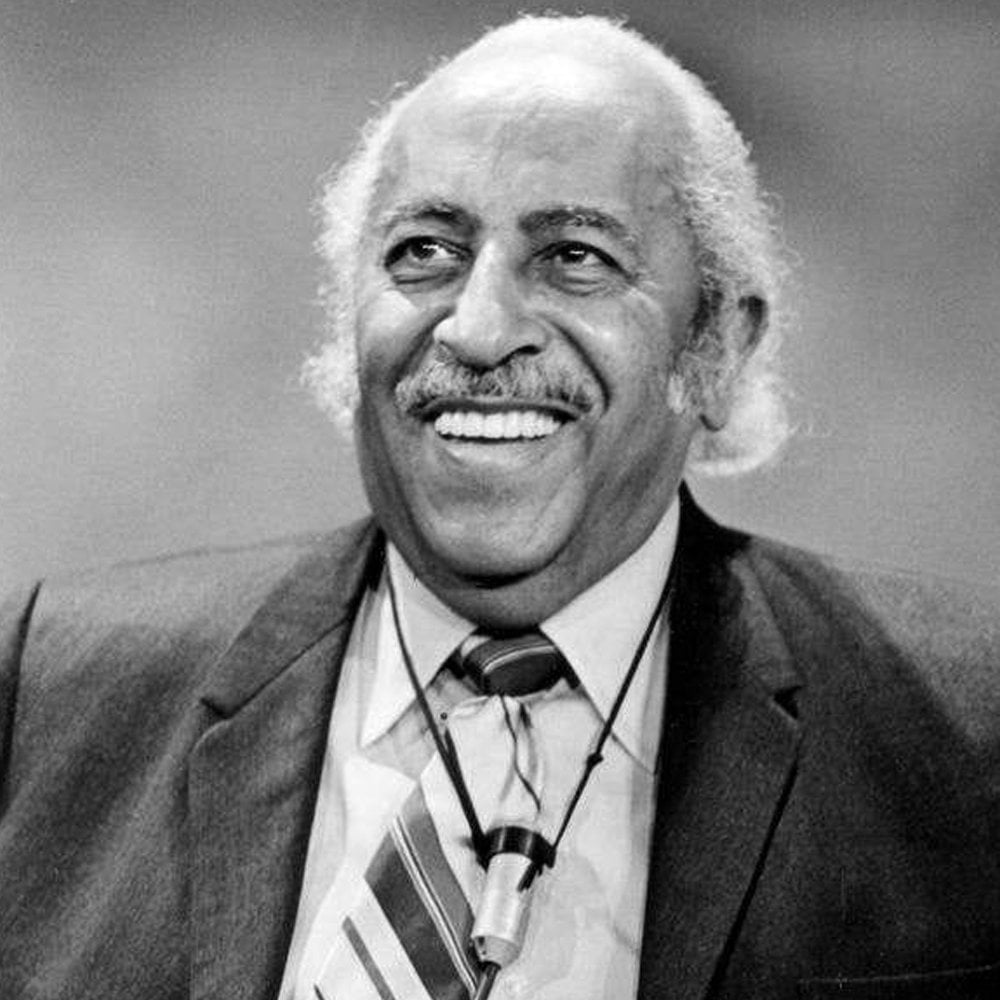 Arna Bontemps - Zeta Rho - 1954

Bontemps grew up in California and was sent to the San Fernando Academy boarding school with his father's instruction to not "go up there acting colored." This Bontemps later noted as a formative moment, and he would resent what he saw as an effort to make him forget his heritage. He graduated from Pacific Union College in Angwin in 1923 with an AB.

In 1924 he accepted a teaching position in Harlem, New York. He married Alberta Johnson, a former student, in 1926; they would eventually have six children. Though his original plan was to obtain his Ph.D. in English, he accepted teaching positions to support his family. Luckily, it was while teaching in Harlem that he would become closely connected to the Harlem Renaissance and befriend major artists such as Countee Cullen, W. E. B. DuBois, Zora Neale Hurston, James Weldon Johnson, Claude McKay, Jean Toomer, and especially Langston Hughes, with whom he frequently collaborated.

Bontemps first published his poems in "Crisis" in 1924, and also later in "Opportunity," both literary magazines that supported the work of young African American writers. In 1926 and 1927, Bontemps win three prizes for his poetry from these publications. His first book of fiction was "God Sends Sunday" (1931), the story of a fast-living black jockey named Little Augie. The book received mixed reviews: praise for its significance as a book by a black author but also criticism for its emphasis on the seamier side of black life.

That same year Bontemps moved to Huntsville, Alabama, where he had accepted a position at Oakwood Junior College. In 1932 he received another prize for the short story "A Summer Tragedy" and published his first two children's book, "Popo, and Fifina: Children of Haiti," with Langston Hughes, and "You Can't Pet a Possum" in 1934. He began work on "Black Thunder: Gabriel's Revolt: Virginia 1800," the story of an aborted slave rebellion led by Gabriel Prosser. The novel, published in 1936, was finished in his father's California house. At the end of the 1934 school year, Oakwood dismissed Bontemps, a reaction to the combination of his radical politics, out-of-state visitors, his personal book collection, and the school's own conservative and religious views.

In 1943 Bontemps received a master's degree in library science from the University of Chicago. He was appointed a librarian at Fisk University, a position he held until his retirement in 1965, followed by honorary degrees and professorships at the University of Illinois and Yale University, and a return to Fisk as a writer in residence.

He died June 4, 1973, from a heart attack while working on his autobiography. However, Sterling A. Brown and Aaron Douglas noted that his writings had not received the critical attention deserved, his work as a librarian and historian point to him as a great chronicler and a preserver of the documents of black cultural heritage. His family's old Louisiana home is now the Arna Bontemps African American Museum and Cultural Arts Center.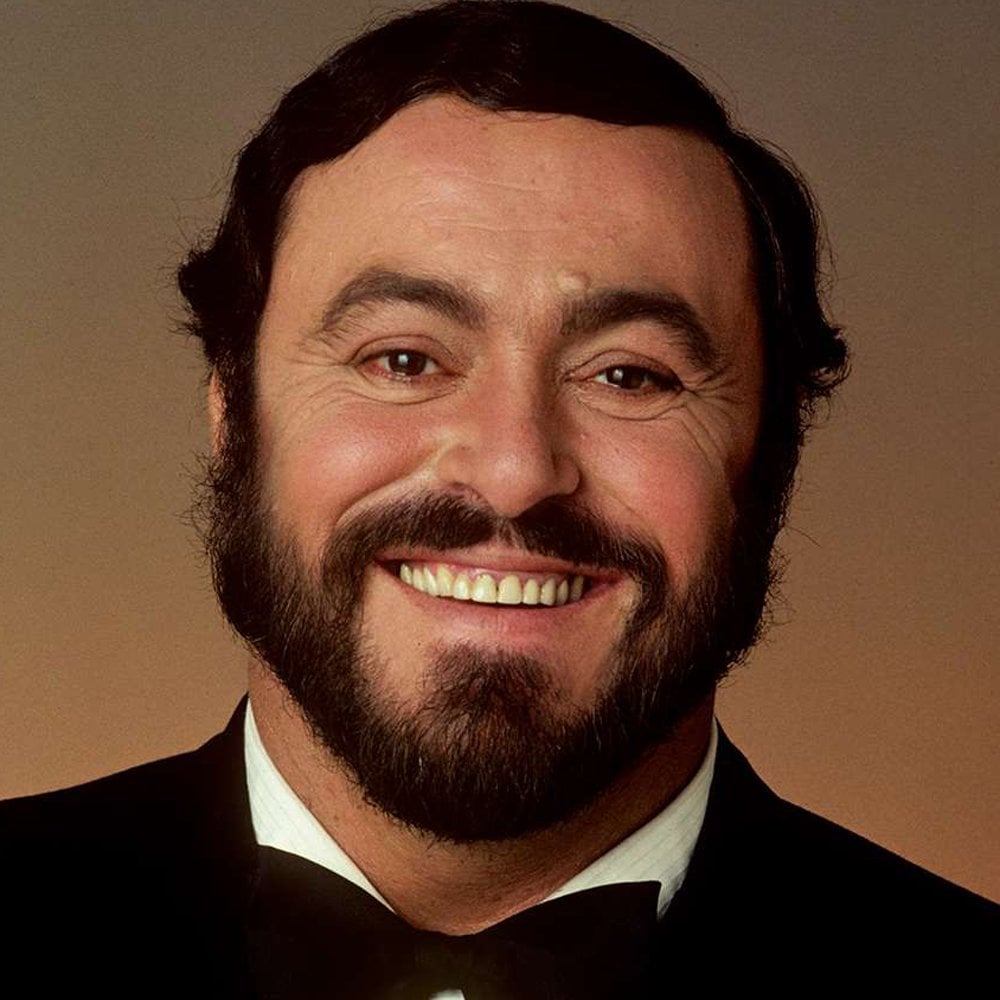 Luciano Pavarotti - Beta Tau - 1978

Luciano Pavarotti was a best-selling classical singer and humanitarian known for his most original and popular performances with the 'Three Tenors' and 'Pavarotti & Friends'.

He was born on October 12, 1935, in Modena, Emilia-Romagna, in Northern Italy. He was the first child and only son of two children in the family of a baker. His father, Fernando Pavarotti, was a gifted amateur tenor, who instilled a love for music and singing in young Luciano. His mother, Adele Venturi, worked at the local cigar factory. Young Pavarotti showed many talents. He first sang with his father in the Corale Rossi, a male choir in Modena, and won the first prize in an international choir competition in Wales, UK. He also played soccer as a goalkeeper for his town's junior team.

In 1954, at the age of 19, Pavarotti decided to make a career as a professional opera singer. He took serious study with professional tenor Arrio Pola, who discovered that Pavarotti had perfect pitch, and offered to teach him for free. After six years of studies, he had only a few performances in small towns without pay. At that time Pavarotti supported himself working as a part-time school teacher and later an insurance salesman. In 1961 he married his girlfriend, singer Adua Veroni, and the couple had three daughters.

Pavarotti made his operatic debut on April 29, 1961, as Rodolfo in La Boheme by Giacomo Puccini, at the opera house in Reggio Emilia. In the following years he relied on the professional advise from tenor Giuseppe Di Stefano, who prevented Pavarotti from appearances when his voice was not ready yet. Eventually Pavarotti stepped in for Di Stefano in 1963, at the Royal Opera House in London as 'Rodolfo' in La Boheme by Giacomo Puccini, making his international debut. That same year he met soprano Joan Sutherland and the two began one of the most legendary partnerships in vocal history; Pavarotti made his American debut opposite Sutherland in February of 1965, at the Miami Opera.

Pavarotti was blessed with a voice of rare range, beauty and clarity, which was best during the 60s, 70s and 80s. In 1966 he became the first opera tenor to hit all nine "high C's" with his full voice in the aria 'Quel destin' in 'La Fille du Regiment' (aka.. The Daughter of the Regiment) by Gaetano Donizetti. He repeated this feat in his legendary 1972 Met performance and was nicknamed "King of the High C's" in rave reviews. Pavarotti's popularity was arguably bigger than that of any other living tenor in the world. His 1993 live performance in New York's Central Park was attended by 500,000 fans while millions watched it on television. During the 1990s and 2000s Pavarotti was still showing the ability to deliver his clear ringing tone in the higher register, albeit in fewer performances.

Luciano Pavarotti was also known for his humanitarian work. He was the founder and host of the 'Pavarotti & Friends' annual charity concerts and related activities in Modena, Italy. There he sang with international stars of all styles to raise funds for several worthy UN causes. Pavarotti sang with Bono and U2 in the 1995 song Miss Sarajevo and raised $1,500,000 in his charity project 'Concert for Bosnia'. He also established and financed the Pavarotti Music Center in Bosnia, and raised funds in charity concerts for refugees from Afghanistan and Kosovo. Pavarotti made two Guinness World Records: one was for receiving the most curtain calls at 165; and the other was for the best selling classical album of 'The Three Tenors in Concert' with Plácido Domingo and José Carreras.
Andrew Carnegie - Alpha - 1917

Andrew Carnegie was born on November 25, 1835, in Dunfermline, Scotland, the son of William Carnegie, a weaver, and Margaret Morrison Carnegie. The invention of weaving machines replaced the work Carnegie's father did, and eventually the family was forced into poverty. In 1848 the family left Scotland and settled in Allegheny City, Pennsylvania. Carnegie's father found a job in a cotton factory, but he soon quit to return to his home handloom, making linens and trying to sell them door to door. Carnegie also worked in the cotton factory, but after his father died in 1855, his strong desire to help take care of the family pushed him to educate himself. He became an avid reader, a theatergoer, and a lover of music.

Between 1865 and 1870 Carnegie made money through investments in several small iron mills and factories. He also traveled throughout England, selling the bonds of small United States railroads and bridge companies. Carnegie began to see that steel was eventually going to replace iron for the manufacture of rails, structural shapes, pipe, and wire. In 1873 he organized a steel rail company. The first steel furnace at Braddock, Pennsylvania, began to roll rails in 1874. Carnegie continued building by cutting prices, driving out competitors, shaking off weak partners, and putting earnings back into the company. He never went public (sold shares of his company in order to raise money). Instead he obtained capital (money) from profits—and, when necessary, from local banks—and he kept on growing, making heavy steel alone. By 1878 the company was valued at $1.25 million.

Carnegie spent his leisure time traveling. He also wrote several books, including "Triumphant Democracy" (1886), which pointed out the advantages of American life over the unequal societies of Britain and other European countries. To Carnegie access to education was the key to America's political stability and industrial accomplishments. In 1889 he published an article, "Wealth," stating his belief that rich men had a duty to use their money to improve the welfare of the community. Carnegie remained a bachelor until his mother died in 1886. A year later he married Louise Whitfield. They had one child together. The couple began to spend six months each year in Scotland, though Carnegie kept an eye on business developments and problems.

In retirement, Carnegie began to set up trust funds "for the improvement of mankind." He built some three thousand public libraries all over the English-speaking world. In 1895 the Carnegie Institute of Pittsburgh was opened, housing an art gallery, a natural history museum, and a music hall. He also built a group of technical schools that make up the present-day Carnegie Mellon University. The Carnegie Institution of Washington was set up to encourage research in the natural and physical sciences. Carnegie Hall was built in New York City. The Foundation for the Advancement of Teaching was created to provide pensions for university professors. Carnegie also established the Endowment for International Peace to seek an end to war.

In all, Carnegie's donations totaled $350 million. The continuation of his broad interests was put under the general charge of the Carnegie Corporation, with a donation of $125 million. Carnegie died on August 11, 1919, at his summer home near Lenox, Massachusetts.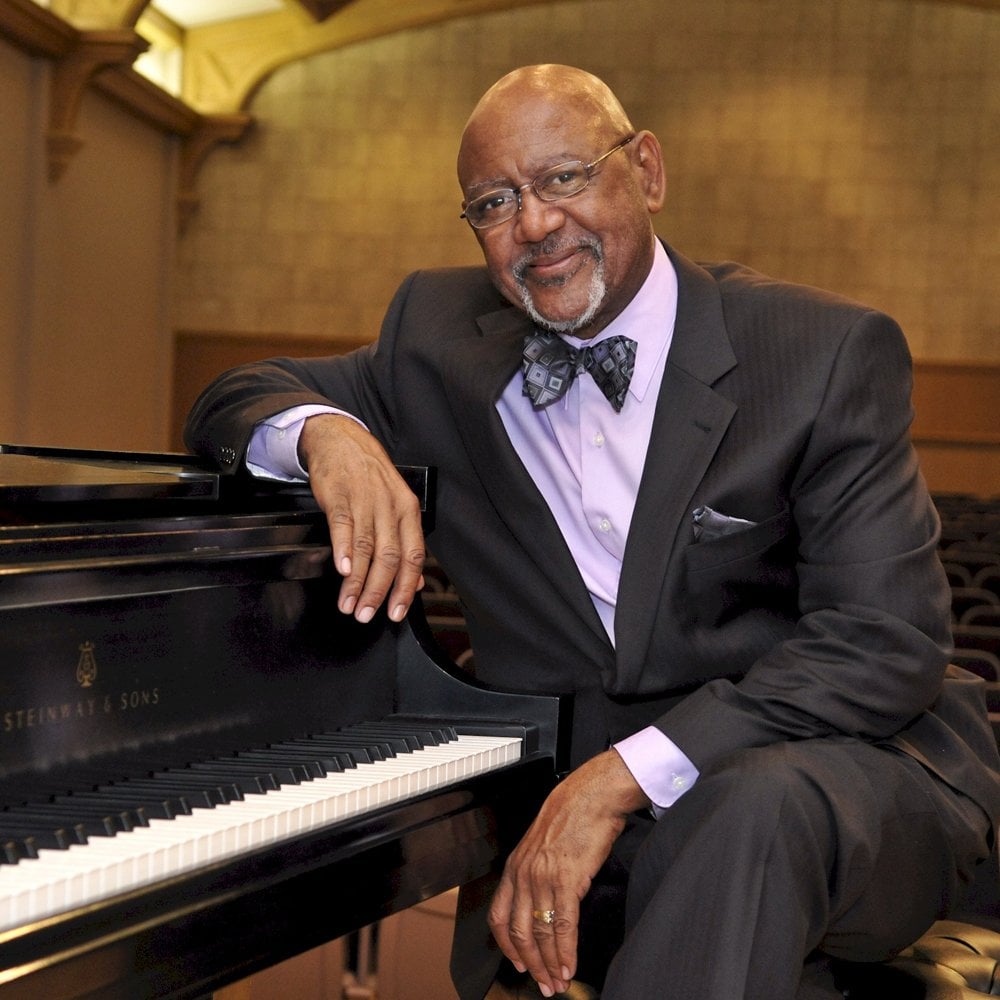 Roland Carter - Beta Epsilon - 1965

Dr. Roland M. Carter has long been a world-acclaimed composer, arranger, conductor, pianist, teacher, and scholar. His outstanding contributions to the performance and preservation of American music, and especially that of African American musicians, have elevated him to the status of a leading figure in the nation's choral arts. From presidential inaugurations to small-town churches, Brother Carter has brought music to the masses with a keen ear and a bright mind.

Music has always been a part of Carter's life, even from the early years. His aunt, Anne Smith, traveled with a musical group called Wings Over Dixie. "She played the piano, and she could play everything from ragtime to stride piano," Carter recalls. "There was always an instrument in the house." After gaining an education from Hampton University in Virginia and New York University, Carter would spend just over twenty years as Director of Choral Music and Assistant Professor of Music at Hampton. In 1989, he would be offered a position at the University of Tennessee-Chattanooga (UTC). The opportunity to teach at the university, where almost thirty years prior, he was not allowed to enter because of his race meant a great deal. "To come back twenty-nine years later as department head was an affirmation of how far we've come, but also how far we had to go," Carter says.

Named the UTC Holmberg Professor of American Music and retired in 2013, Carter accomplished much during his twenty-three-year tenure. He founded The Chattanooga Choral Society for the Preservation of African American Song and led several choirs. In 2003 he was awarded the Tennessee Governor's Arts Awards as a Distinguished Artist and was elected to honorary membership of the internationally acclaimed Morehouse Glee Club in 2004. He also served as President of the National Association of Negro Musicians from 2002 to 2008.

In recognition of his contributions to his art and humanity, Brother Carter was named to Phi Mu Alpha's inaugural class of Signature Sinfonians in 2006 and initiated into the Alpha Alpha Chapter of national honorary members. Just last Spring, Carter was recognized with a Master of Spirituals Award for his work preserving the religious music of African Americans.
Burl Ives - Alpha Chi - 1953

Burl Ives was an American entertainer, with a career that spanned in over sixty years. He expanded his talent into in many forms of media, with a wide range. He was an itinerant folk singer before becoming a radio personality during the 1940s, appearing on his own radio show 

The Wayfarin' Stranger

. Also during that decade, Ives also began to appear in movies with Smoky, and acted more frequently from the 1950s-1960s on films such as 

East Of Eden, Cat On A Hot Tin Roof, Desire Under The Elms, Wind Across The Everglades, Day Of The Outlaw

, and 

The Big Country

, the last film where his performance won him an Oscar best supporting actor in 1958. He had also appeared on Broadway since the late 1930s.

As a singer and recording artist, Ives released singles that endeared to his folk and country fans such as "Riders in the Sky," "A Little Bitty Tear," "Funny Way of Laughin'," "Call Me Mr. In-Between," "Mary Ann Regrets" and a lot more, and had issued 40-plus albums in his long career. He also popularized the traditional songs "Foggy, Foggy Dew" in the 1940s, and became somewhat a symbol of Christmas through his popular songs "A Holly Jolly Christmas" and "Silver and Gold" which became standard holiday fares. With his grandfatherly image he was also popular among younger listeners through some of his records such as Animal Fair: Songs for Children, Children's Favorites, Burl Ives Sings Little White Duck and Other Children's Favorites and Chim Chim Cheree and other Children's Favorites, among others.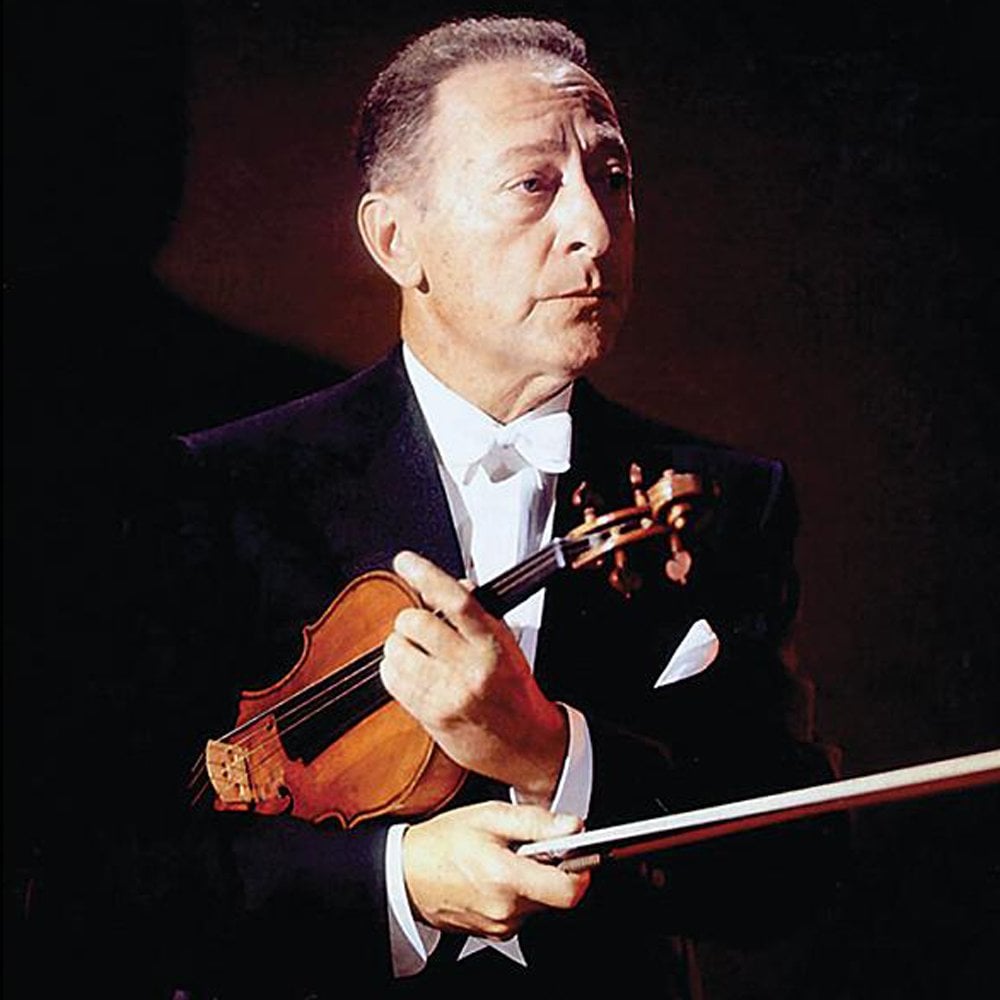 Jascha Heifetz - Alpha - 1917

More than a century after his public debut, the name Jascha Heifetz continues to evoke awe and excitement among fellow musicians. In a performing career that spanned 65 years, he established an unparalleled standard of violin playing to which violinists around the world still aspire.

Heifetz is widely considered to be one of the most profoundly influential performing artists of all time. Born in Vilnius, Lithuania — then occupied by Russia — on February 2, 1901, he became a U.S. citizen in 1925. Fiercely patriotic to his adopted country, he gave hundreds of concerts for Allied service men and women during World War II, including tours of Central and South America, North Africa, Italy, France, and Germany, often playing from the back of a flatbed truck in dangerous conditions.

In 1928, he published the first of dozens of acclaimed violin transcriptions. Many, including his arrangements of selections from Gershwin's "Porgy and Bess," are now part of the standard repertoire. Using the pseudonym Jim Hoyl, he even wrote a pop song that became a hit in 1946.

In his later years, Heifetz became a dedicated teacher and a champion of causes he believed in. He led efforts to establish "911" as an emergency phone number, and crusaded for clean air. He and his students at the University of Southern California protested smog by wearing gas masks, and in 1967 he converted his Renault passenger car into an electric vehicle.

As a result of his vast recorded legacy, Heifetz's violin playing is no less influential today than it was in his lifetime. To legions of violinists he remains, quite simply, "The King."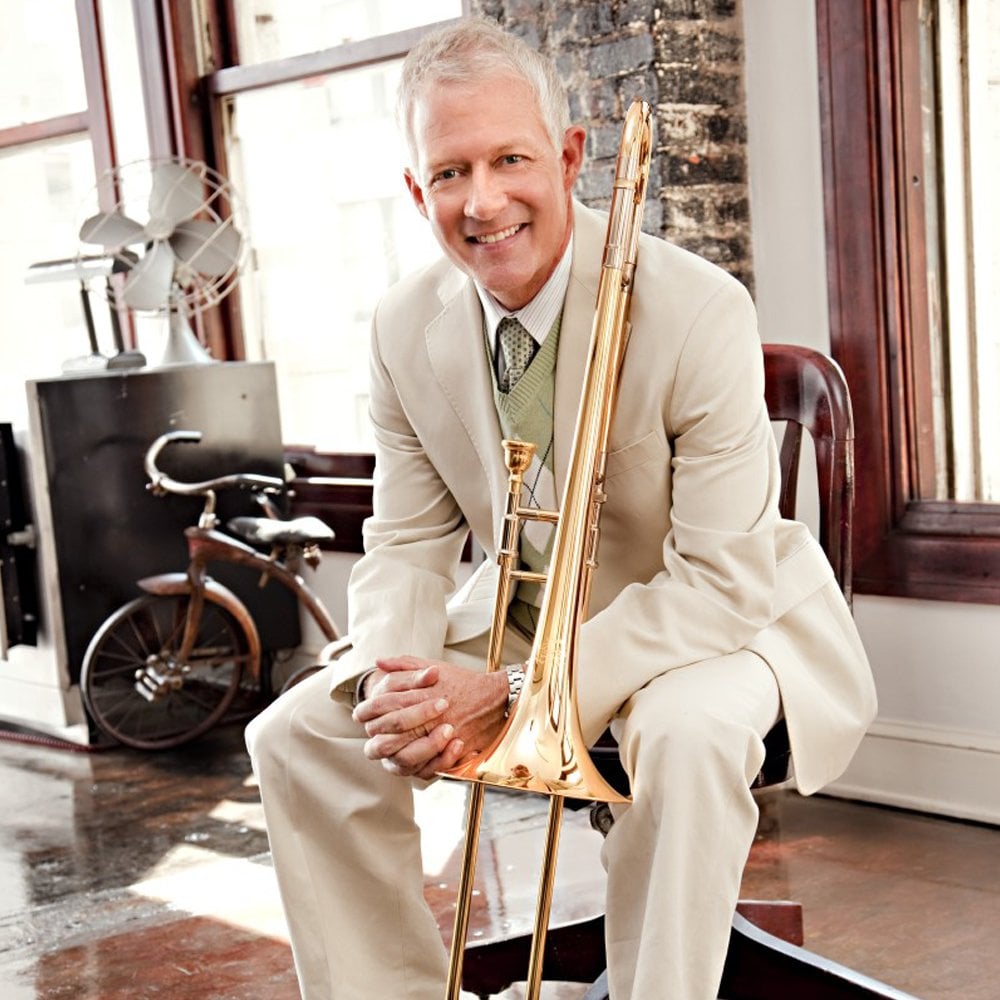 Andy Martin - Alpha Alpha - 2018

Coming from a musical family, trombonist Andy Martin launched his career while still in his teens. His technique and virtuosity quickly established him on the Los Angeles music scene. As an instructor, Martin has influenced countless young players. He has appeared at many colleges and universities throughout the country as a guest artist and clinician.

A world-class jazz musician and Yamaha Performing Artist, Martin is featured as leader or co-leader on twelve albums. These albums showcase his collaboration with other top jazz artists such as the late Carl Fontana, Pete Christlieb, Bobby Shew, and Eric Marienthal. He has also collaborated as a sideman with jazz greats such as Stanley Turrentine and Horace Silver. Martin had a long association with British bandleader and jazz promoter Vic Lewis and was the featured soloist on many of Vic's CDs.

Martin is well known for his work as a lead player and featured soloist with virtually every big band in L.A. Martin is the lead trombonist and featured soloist with Gordon Goodwin's Big Phat Band, the lead trombonist, and soloist for The Tom Kubis Band, and was a featured soloist for the Bill Holman Big Band for 15 years. He has appeared in bands led by Jack Sheldon, Louis Bellson, Quincy Jones, Matt Cattingub, Bob Curnow, Patrick Williams, and Sammy Nestico, among others.

Martin has long been one of L.A.'s most prominent trombonists for commercial recordings, television and motion picture soundtracks and live theater. He has contributed on albums for many popular artists, including the Pussycat Dolls, Coldplay, and Michael Bublé. His television credits include the Grammys, the Emmys, the Academy Awards, the Golden Globes and the Screen Actors Guild Awards. Martin has been the lead trombonist on television shows Dancing With The Stars and American Idol and has appeared regularly on the soundtracks of major television series such as Family Guy, American Dad, and King of the Hill. His motion picture credits span the soundtracks of over 150 major films.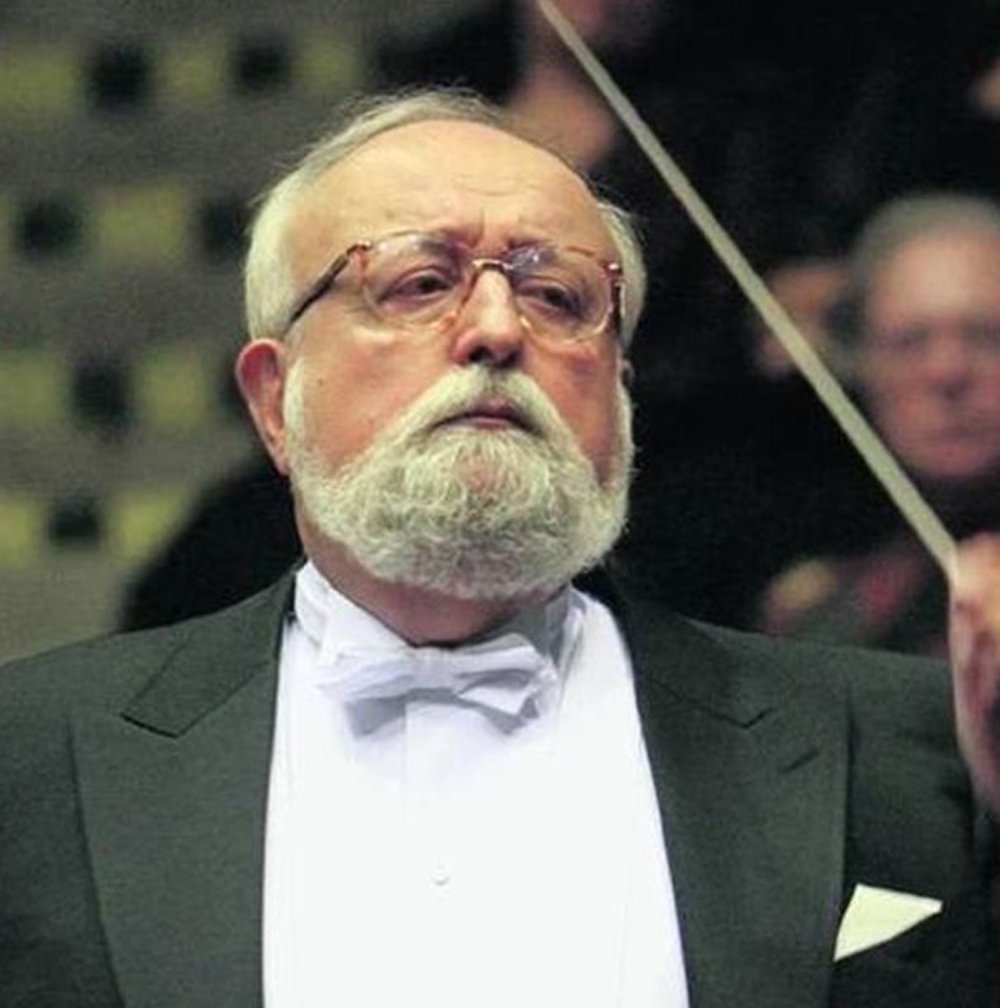 Krzysztof Penderecki - Epsilon Iota - 1975

Krzysztof Penderecki was born in Dębica on 23 November 1933. He studied composition privately with Franciszek Skołyszewski and then (1955-8) with Artur Malawski and Stanisław Wiechowicz at the State Higher School of Music in Kraków, where he also taught, being appointed its rector (i.e., president) in 1972 (in the 1980s the School was renamed "Academy of Music). Penderecki's career had a very auspicious beginning. In 1959 he came suddenly to prominence when three of his works won first prizes in a national competition organized by the Polish Composers' Union (he submitted them under different pseudonyms). His reputation quickly spread abroad, notably through perfomances of such works as 

Anaklasis

 (written for the 1960 Donaueschigen Festival) and 

Threnody for the Victims of Hiroshima.

 The latter piece, as well as the 

Passion according to St. Luke

 of 1963-5, found an unusually wide audience for contemporary works, and Penderecki soon received important commissions from diverse organizations in Europe and the USA. He has also appeared widely as a lecturer and in 1972 began to conduct his own compositions.

Penderecki has won numerous domestic and foreign prizes including the First Class State Award (1968, 1983), the Polish Composers' Union Prize (1970), the Herder Prize (1977), the Sibelius Prize (1983), the Premio Lorenzo Magnifico (1985), the Israeli Karl Wolff Foundation Prize (1987), a Grammy Award (1988), a Grawemeyer Award (1992), and a UNESCO International Music Council Award (1993). He has honorary doctorates from universities in Rochester, Bordeaux, Leuven, Belgrade, Washington, Madrit, Poznań, Warsaw and Glasgow. He is an honorary member of the Royal Academy of Music in London, Accademia Nazionale di Santa Cecilia in Rome, Musikaliska Academien in Stockholm, Akademie der Kunste in Berlin, Academia Nacional de Bellas Artes in Buenos Aires, Academie Internationale de Philosophie et de I' Art in Bern, Academie Internationale des Sciences, Belles-lettres et Arts in Bordeaux, and the Royal Academy of Music in Dublin. In 1990 he received the Great Cross of Merit of the Order of Merit of the Federal Republic of Germany, in 1993 the Order of Cultural Merit (Monaco), and in 1994 an Austrian honorary distinction For Achievements in Science and Arts. In 1993 he was decorated with the Commander's Cross with the star of the Order of Polonia Restituta.

Penderecki's teaching career developed in Germany, the U.S. and Poland. He taught composition at the Volkwang Hochschule fur Music, Essen (from 1966 to 1968); in 1973-78 he lectured at Yale University in New Haven. In 1982-87 he was rector of the Academy of Music in Kraków, in 1987-1990 he served as the artistic director of the Cracow Philharmonic. Since his conductor's debut with the London Symphony Orchestra (1973), he has performed with prominent symphony orchestras in the United States and Europe, and he is chief guest conductor of the Norddeutscher Rundfunk Orchestra in Hamburg. Apart from his own works, his conducting repertoire covers the works of composers from various epochs, with a preference for 19th-century and early 20th-century compositions. In 1997 he published a book entitled "The Labyrinth of Time. Five Lectures at the End of the Century (Warsaw, "Presspublica"). In 1996 the performance of his piece Seven Gates of Jerusalem, commissioned by the city, commemorated the celebrations of "Jerusalem – 3000 Years." in Israel.
Ellis Marsalis, Jr. - Delta Epsilon - 1965

Brother Marsalis was initiated at the Delta Epsilon Chapter in 1965 and in 2015 he was named the Fraternity's 24th "Man of Music" at the 55th National Convention.

Born on November 14, 1934, his formal music studies began at age eleven at the Xavier University junior school of music. After high school, Marsalis enrolled in Dillard University as a clarinet major. He graduated in 1955 with a Bachelor of Arts degree in Music Education. Marsalis spent the next year working as an assistant manager in his father's motel business.

The following year, Marsalis joined the U.S. Marine Corps. While stationed in southern California he honed his pianist skills as a member of the Corps Four, a Marines jazz quartet that performed on television.

Returning to New Orleans in 1966, he began freelancing on the local music scene. Between 1966 and 1974 Brother Marsalis would perform at the Playboy Club, Al Hirt nightclub, Lu and Charlie's nightclub, Storyville nightclub Crazy Shirley's as well as again enter the teaching profession, in 1967, as an adjunct professor of African American Music at Xavier University.

In 1986, Marsalis accepted a teaching position out of state. He became a Commonwealth Professor at Virginia Commonwealth University, serving as coordinator of Jazz Studies two of his three years there. In 1989, he returned to New Orleans to become the first occupant and Director of the Coca-Cola Endowed Chair of Jazz Studies at the University of New Orleans.

During his tenure at UNO, he helped colleague Charles Blancq develop a campus performance center called the Sand Bar. Marsalis would also develop a Jazz Orchestra, which he took, on the eve of his retirement, on a tour of Brazil. On August 10, 2001, Marsalis officially retired from the University of New Orleans after twelve years of dedicated service. His retirement was celebrated by a very rare performance of his sons Branford, Wynton, Delfeayo and Jason Marsalis at the UNO arena.

In 2011, Brother Marsalis and his family were awarded the highest honor in Jazz, NEA Jazz Masters, the first group award ever distributed by the National Endowment for the Arts.
George Eastman - Alpha Nu - 1927

George Eastman was born in Waterville, New York, on July 12, 1854. His father, George W. Eastman, ran a business college in Rochester, New York; his mother, Maria Kilbourn, took care of young George and his two older sisters. His father died when he was seven, two years after the family moved to Rochester. His mother was forced to take in boarders to add to the family's small income. George was educated in Rochester public schools but dropped out at age thirteen to work and help his mother. He advanced from messenger to bookkeeper in the Rochester Savings Bank by 1877. He was always careful with money, spending it only on his hobby, amateur photography. When photographic chemicals among his cameras and supplies ruined his packed clothes on a trip to Mackinac Island, he became disgusted with the wet-plate process of producing photographs.

In the 1870s American photography was still time-consuming, difficult, and expensive. Equipment included a huge camera, strong tripod (a three-legged stand), large plateholder, dark tent, chemicals, water container, and heavy glass plates. Eastman experimented using dry plates. He was the first American to contribute to the improvement of photographic methods by coating glass plates with gelatin, a gummy substance, and silver bromide, a chemical. In 1879 his coating machine was patented in England, and in 1880 he received an American patent for it. He sold his English patent and opened a shop to manufacture photographic plates in Rochester. To do away with glass plates, Eastman coated paper with gelatin and photographic chemicals. The developed film was stripped from the paper to make a negative. This film was rolled on spools. Eastman and William Walker created a lightweight roll holder that would fit any camera.

In 1888 Eastman designed a simple camera, the Kodak (a word created by Eastman; it has no meaning), which was easy to carry and made focusing and adjusting the light unnecessary. With a hundred-exposure roll of film, it sold for twenty-five dollars. After taking the pictures and sending the camera and ten dollars to the Rochester factory, the photographer received his prints and reloaded camera. Eastman's slogan, "You press the button, we do the rest," became well known. Eastman expected that photography would soon become more popular, and in 1892 he established the Eastman Kodak Company.

Eastman's staff worked on other scientific problems as well as on photographic improvements. During World War I (1914–18) his laboratory helped build up America's chemical industry to the point where it no longer depended on Germany. Eventually America became the world leader. Eastman cared about his employees; he was the first American businessman to grant workers shares in the profits made by the company. He also gave away large amounts of his huge fortune to the University of Rochester (especially the medical school and Eastman School of Music), Massachusetts Institute of Technology, Hampton Institute, Tuskegee Institute, Rochester Dental Dispensary, and several European dental clinics.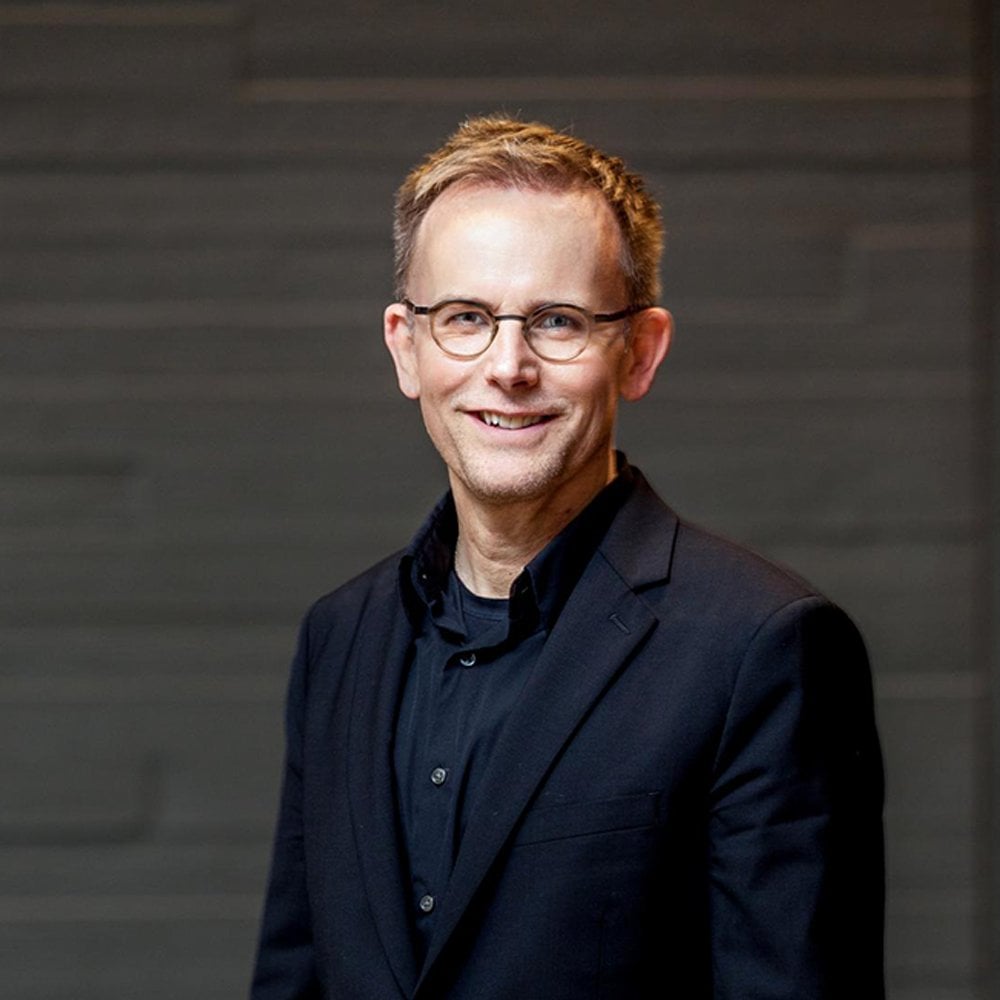 Craig Hella Johnson - Gamma Phi - 2018

Beloved by audiences, lauded by critics and composers, and revered by singers, Johnson is known for crafting musical journeys that create deep connections between performers and listeners. 

The Wall Street Journal

 praised his ability to "find the emotional essence other performers often miss," and 

Fanfare

 wrote that "Craig Hella Johnson has assembled and molded a first-rate choir to be respected as highly as the best we have had." Distinguished composer John Corigliano wrote, "I believe that [Johnson] has understood my music in a way that I have never experienced before. He is a great musician who understands everything about the music he conducts." Composer and collaborator Robert Kyr observed, "Craig's attitude toward creating a community of artists who work together to interpret the score … goes beyond technical mastery into that emotional depth and spiritual life of the music." Of Johnson's performance of Beethoven's 

Missa Solemnis,

 the 

San Antonio Express-News

 wrote: "Through all the amazing ebbs and flows of dynamics, the radiant balances, the seamless connection of episodes, the theatrically astute tempo relations, the unified structural arc, the music shone forth with organic naturalness. Nothing sounded fussed over. Everything just sounded right."

Johnson is also Music Director of the Cincinnati Vocal Arts Ensemble and conductor emeritus of the Victoria Bach Festival. He was Artistic Director of San Francisco-based Chanticleer (1998-1999) and has served as guest conductor with the Austin Symphony, San Antonio Symphony, and many others in Texas, the U.S., and abroad. As the Director of Choral Activities at the University of Texas at Austin from 1990-2001, Johnson led the graduate program in choral conducting. He remains an active educator, teaching nationally and internationally with professionals and students at conferences and universities. He is also a frequent speaker at regional and national conferences of the American Choral Directors Association. Craig Hella Johnson joined the faculty at Texas State as Artist in Residence in fall 2016 and continues to inspire his colleagues and students in innovative teaching and programming as Professor of Practice.

A composer and arranger, Johnson works with G. Schirmer Publishing on the Craig Hella Johnson Choral Series, featuring specially selected composers as well as some of his original compositions and arrangements. His works are also published by Alliance Music Publications. A unique aspect of Johnson's programming is his signature "collage" style: through-composed programs that marry music and poetry to blend sacred and secular, classical and contemporary, traditional and popular styles. In 2006 he was engaged to create a special peace-themed collage program for the North Central ACDA convention, and in 2007 by the famed St. Olaf Choir to create and conduct a collage program during a five-week residency. Craig's first concert-length composition, Considering Matthew Shepard, was premiered in 2016 by Conspirare .

A Minnesota native, Johnson studied at St. Olaf College, the Juilliard School, and the University of Illinois and earned his doctorate at Yale University. As the recipient of a National Arts Fellowship, Johnson studied with Helmuth Rilling at the International Bach Academy in Stuttgart, Germany. He has been a Texas resident since 1990.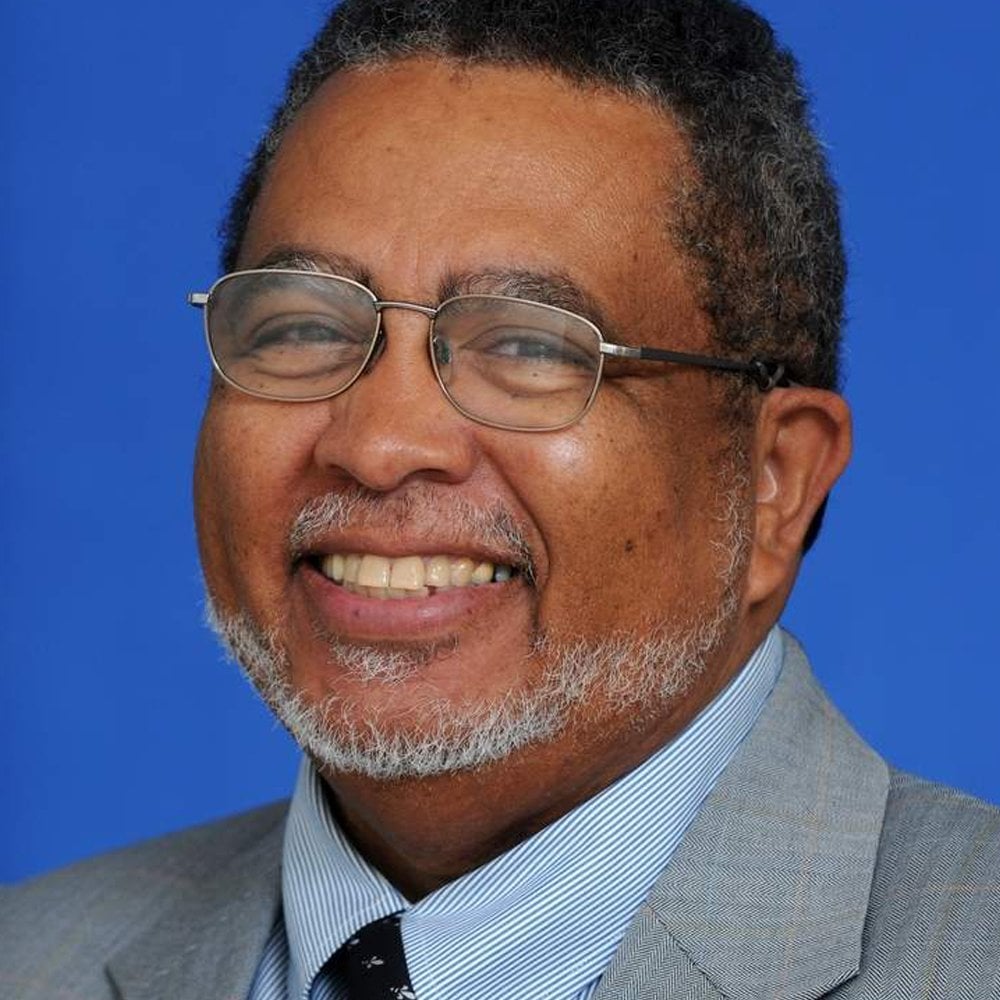 Adolphus Hailstork - Rho Mu - 2010

Dr. Adolphus Hailstork was initiated into the Rho Mu Chapter at Norfolk State University in 2010. He is a composer and educator who has composed numerous works for chorus, solo voice, piano, organ, various chamber ensembles, band, and orchestra.

Brother Hailstork was born in Rochester, New York but grew up in Albany where he began to study violin, piano, organ, and voice. He began to compose after much encouragement from his high school band director and eventually obtained a degree in theory from Howard University. The following summer Hailstork traveled to France to study with French composer Nadia Boulanger. Boulanger is renowned for teaching many of the 20th century's leading composers and musicians.

When Hailstork returned to America he continued his education at the Manhattan School of Music where he earned a master's degree in composition. After a two-year tour of duty with the U.S. Army in West Germany from 1966 to 1968, Hailstork obtained his doctorate at Michigan State University. By 1971 he had landed his first post-doctorate position at Youngstown State University in Youngstown, Ohio.

Dr. Hailstork currently serves as Professor of Music and Eminent Scholar at Old Dominion University in Norfolk, Virginia. He has received several awards including a Fulbright fellowship and the Brock Commission from the American Choral Directors Association. In 1992, he was named a Cultural Laureate of the Commonwealth of Virginia and continues to be commissioned for his talent as a composer.
Stan Kenton - Gamma Epsilon- 1961

Born December 15, 1911, in Wichita, Kansas, Kenton left the state with his family when he was six weeks old. Although he spent little time in Kansas, he still considered it his home state and Wichita his hometown. Many times he returned to Wichita to perform and he always received a hometown reception.

Kenton was unique in several ways. As an artist he was never satisfied to remain within the defined limits of the type of music he was performing. He was quoted in a newspaper interview as stating, "No art form lasts for an eternity. The moment of creation is the most potent time; then it diminishes until it finally has no meaning for the society around it." With this as his philosophy of music, Kenton was a constant target of music critics that attacked his compositions because they did not conform to the status quo. He paid little attention to his critics or the rules he was supposed to follow.

Perhaps the most unique part of Kenton's personality was his innovativeness. In another newspaper interview he commented, "I have a problem with myself. I'm just not much for the past. When guys come around to talk about the good old days, I'm not much interested. I'm more concerned with what's happening next." His innovations included pioneering the form of jazz called, "Third Stream," which is a blending of American jazz with European classical music. In the 1960s he experimented with a band featuring the mellophonium, which was a cross between a trumpet and a trombone. Later in the decade he established the Neophonic Orchestra, which was the first permanently established orchestra in the world devoted to contemporary music. He also made a habit of conducting clinics at universities. The clinics were his way of teaching young people his art and also ensuring that his brand of music would not die. Kenton died in California on August 25, 1979, but his music survives.