Charles E. Lutton Man of Music
Award Recipients
In memory of Casey Lutton, Sinfonia's Supreme Secretary-Treasurer from 1919-1949, the Charles E. Lutton Man of Music Award was created by the Executive Committee at its March 17, 1951 meeting and intended to be presented to a Sinfonian who, through significant musical activity, has distinguished himself, furthered the cause of music in America, and brought honor to Phi Mu Alpha Sinfonia.
Although it was at first envisioned as an annual award, the pattern was established to make the award a regular feature at National Convention. Since its inception and subsequent awarding to Thor Johnson, conductor of the Cincinnati Symphony, at the 1952 Convention.
1952 – Thor Johnson (Alpha Rho)
Thor Johnson was a 1932 initiate of the Alpha Rho Chapter at the University of North Carolina at Chapel Hill. In 1947, he was appointed conductor of the Cincinnati Symphony Orchestra (CSO) and was the youngest American born conductor of a major American orchestra at that time.
In 1952, Brother Johnson became the first recipient of the Charles E. Lutton Man of Music Award at the 32nd National Convention in Cincinnati, Ohio. During his time at the CSO, he helped premier over 120 American and European compositions, half of which he commissioned. In addition to his music advocacy efforts, Johnson also founded the Peninsula Music Festival, established in 1952.
1954 – Howard Hanson (Iota)
Initiated into the Iota chapter at Northwestern University in Illinois in 1916, Hanson became a charter member of the Alpha Nu chapter at Eastman School of Music of Rochester, New York in 1925, just one year after being named the director of the school.
As director of Eastman School of Music, Howard Hanson transformed the school into one of the most prestigious music schools in the country. He brought in better teachers, improved the curriculum and refined the school's ensembles. As a champion of American composition, Hanson premiered over 2000 works by nearly 500 American composers while at Eastman an appeared frequently as a guest conductor for several major American and Germanic symphonies.
At the 1954 National Convention, Hanson became the Fraternity's second "Man of Music" for his enormous contributions to Eastman and his legacy as a conductor.
1956 – Earl V. Moore (Epsilon)
Brother Moore was an alumnus of the University of Michigan and a 1914 initiate of the Epsilon Chapter. As a student, he served as the university organist starting in 1915 and would become a prominent figure in the school's musical community. Moore served as director, and after a change in governance, dean of the U of M School of Music from 1923 to 1960. He composed several of the fight songs that the University of Michigan Marching Band still plays to this day.
As part of the long-range plans for the development of new land acquired by the university, a new school of music was to be constructed. In honor of Moore, the new building was named the Earl V. Moore Building and still stands today. When the building opened its doors in the summer of 1964, a special ceremony bestowed honorary degrees on Leonard Bernstein, Aaron Copland, Alice Saarinen, and Earl V. Moore.
For his significant contributions to the University of Michigan and dedication to American music, Brother Moore was named the Fraternity's 3rd "Man of Music" at the 1956 National Convention in Cincinnati, Ohio.
1958 – Sigmund Spaeth (Iota)
Dr. Sigmund Spaeth was a charter member of the Iota Chapter of Phi Mu Alpha at Northwestern University in 1910. His name as a composer and musicologist was interwoven with American music for several decades from the early 1920s through the late 1940s. After attending Haverford College (where he would compose the alma mater) he earned a doctorate degree from Princeton University. Spaeth was a well-known music critic on several newspapers including the "New York Times" and "The Boston Evening Transcript." He would also compose music for the movies "Show Boat" and "The Trespasser."
Spaeth was the author of several books such as "A History of Popular Music in America" and "The Common Sense of Music." These works helped show the ties between popular songs of the time and old American folk songs. His vast knowledge of musical heritages led to the premiere of his NBC programs "Keys to Happiness" and "The Tune Detective." On many occasions, he was sought out as an expert witness in the courtroom testifying against musical plagiarism. As a passionate supporter of barbershop quartet singing, he would spend much time outside of his profession organizing musical groups for the blind and arranging to have records sent to servicemen overseas.
In 1958, Brother Spaeth was named Phi Mu Alpha's 4th "Man of Music" at the 35th National Convention for his contributions to American art and culture as well as his study of the origins of American popular music.
1960 – Joseph E. Maddy (Epsilon)
Joseph Edgar Maddy was a pioneer in early American music education and a renowned orchestra conductor.
Initiated into the Epsilon Chapter at the University of Michigan, Brother Maddy was famous for being a champion of music advocacy for the youth of America. It was this passion that led him to establish the National High School Orchestra Camp, which would later take shape as Interlochen Center for the Arts. Today, Interlochen's Summer Arts Camp is internationally known for being a summer learning center for students of all ages. Attendees receive instruction in music and the arts from some of the most exceptional teachers in the world.
For his selfless contributions and undying dedication to music advocacy, Joseph Maddy was awarded the "Man of Music" Award at the 1960 National Convention.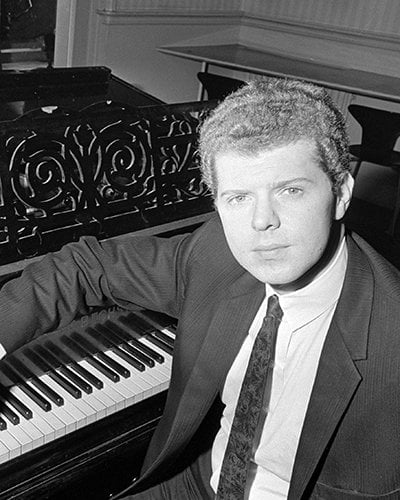 1962 – Van Cliburn (Alpha Chi)
Van Cliburn was initiated into the Alpha Chi Chapter at the University of Tula in 1958. During the same year, he participated in the International Tchaikovsky Competition in Moscow, Russia. In an event designed to demonstrate the technological superiority of the USSR during the Cold War, Cliburn would win first prize. The win propelled him to international fame, earning him the nickname "The Texan Who Conquered Russia" on the cover of the New York Times Magazine. For the power of his musical diplomacy and his influence on the world through the arts, Brother Cliburn was awarded the Presidential Medal of Freedom by President Bush in 2003 and the National Medal of the Arts by President Obama in 2010. Today, his legacy lives on through the Van Cliburn International Piano Competition held once every four years at venues around the globe.
For his contributions to American music and his endeavors in the arts and humanity, Cliburn was awarded the Phi Mu Alpha's "Man of Music" award at the 1962 National Convention in Cincinnati, Ohio. Cliburn would follow his acceptance of the award with a speech and exceptional performance for the Sinfonian Brothers in attendance, displaying his gratitude through song.
When speaking on the joy of sharing music, Brother Cliburn said, "Its always there, it will be there after you and I and everyone we know today are dead. That music will still be alive."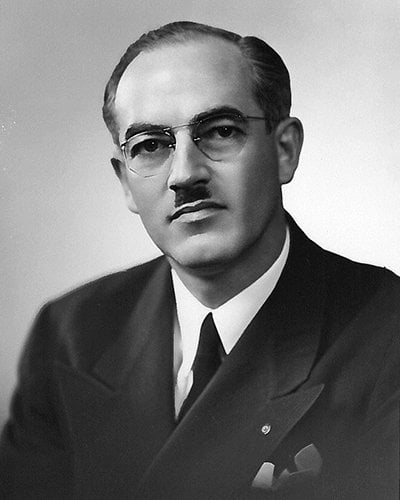 1964 – Archie N. Jones (Alpha Mu)

Brother Jones was initiated into the Alpha Mu Chapter at the University of Minnesota-Twin Cities in 1929. Jones was a past National President of Phi Mu Alpha Sinfonia and Dean of the University of Missouri at Kansas City Conservatory of Music. Brother Jones served as Phi Mu Alpha's National President from 1950 to 1960, holding the record as Sinfonia's longest-tenured president. Throughout his life, he was a constant and significant influence on the world of music advocacy.
During his career at the Conservatory in Kansas City, Jones was instrumental in the creation of the American Choral Directors Association. In February of 1959, a group of 35 choral conductors from across the country and formed ACDA as a way to promote excellence in the field of choral music through performance, education, composition, and advocacy.
Coinciding, with his active involvement in music advocacy, his tenure as President placed great emphasis on the Fraternity's role in the advancement of music in America. To honor his dedication to the Fraternity's Object and contributions to American choral music, Brother Jones was named Phi Mu Alpha's 7th "Man of Music" at the 1964 National Convention in St. Louis, MO.
1967 – Price Doyle (Gamma Delta)
Price Doyle was an initiate of the Gamma Delta Chapter at Murray State University and served as former Executive Secretary of the Fraternity. He was awarded the "Man of Music" Award posthumously in 1967.
Doyle was also a professor and the head of the School of Music at Murray State from 1930 to 1957, leaving a lasting impression on his Alma Mater. In addition to being an alumnus, the fine arts building at the university was dedicated to him years after its completion, naming it the "Price Doyle Fine Arts Center" on December 5, 1971. Doyle also served as the president of the National Association of Schools of Music. Formed in 1924, it established national standards for undergraduate and graduate degrees at music schools.
1970 – Aaron Copland (Alpha Upsilon)
An Initiate of the Alpha Upsilon Chapter of Phi Mu Alpha at the University of Arizona, Copland created a vast portfolio of music that many consider being standards in American music. His career and talent as a composer won him the title "Dean of American Composers," bestowed upon him by his peers. Pieces such as "Fanfare for the Common Man", "Lincoln Portrait", "Rodeo" and "Appalachian Spring" are all standards in describing the American attitude and are just a few that earned him a spot among some of America's greatest composers. It was because of his influence over American music that President Lyndon B. Johnson awarded Copland with the Presidential Medal of Freedom in 1964.
Alongside a prolific career in composition, Copland served as Berkshire Music Center's Head of Composition from 1940 to 1965 and was named the head of the faculty in 1957. During the years that followed, he began to turn his attention more toward conducting, making appearances as a guest conductor all over the United States and the United Kingdom. Despite his fame, Copland didn't stray from promoting other American composers and their music. He was instrumental in bringing performances of new American works and their composers by supporting the Copland-Sessions Concerts in New York, the American Festival of Contemporary Music, and the American Composers Alliance.
For his contributions to American music and his lifetime dedication to promoting the arts, Aaron Copland was named Phi Mu Alpha's 9th "Man of Music" at the National Convention in 1970.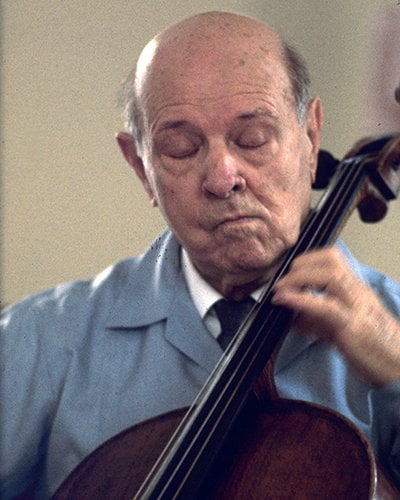 1973 – Pablo Casals (Epsilon Iota)
Casals was initiated into the Epsilon Iota Chapter at Florida State University in 1963.
A world-renowned cellist, composer, and conductor, Casals was named Phi Mu Alpha's Man of Music in 1973. He founded the Prades Festival and served as its first music director. Casals wrote many oratorios, symphonies, masses, choral works and string quartets but is perhaps most well known for his recordings of the Bach Cello Suites.
Also an internationally renowned political figure, Casals was a voice for human rights. In 1963, he was awarded the Presidential Medal of Freedom by John F. Kennedy and was quoted as saying,
"This is the greatest honor I have ever received in my life. Peace has always been my greatest concern."
In 2000, the Pablo  Casals International Cello Competition was created in his name to help discover and further the careers of future elite cellists. His legacy still lives on today through competitions and venues in his namesake, and his passion to sew harmony amongst all through his music.
1976 – William C. Warfield (Delta Lambda)
William Warfield was an initiate of the Delta Lambda Chapter at Ball State University in 1961. Warfield was a bass-baritone whose repertory included everything from theater works to Handel oratorios but who was best known for his portrayals of Porgy in Gershwin's "Porgy and Bess." He is regarded as one of the world's experts on Negro spirituals and German Lieder and held the title of "America's Musical Ambassador."
In the late 1930's he won first prize in the National Music Educators League Competition in St. Louis, which brought him a scholarship to the Eastman School of Music, in Rochester. His studies were interrupted by service as an Army intelligence officer during World War II, but he received his bachelor's degree at Eastman in the late 1940s.
His breakthrough came on March 19, 1950, with a performance that received enthusiastic reviews, creating several immediate opportunities for him, including a tour of Australia and a contract with MGM to play Joe in "Showboat," reprising a role that one of his heroes, Paul Robeson, had sung in the 1936 filmed version of the work.
Warfield began to teach after the prime years of his stage career where he went on to become a professor of music at the University of Illinois at Urbana-Champaign in 1975, and he joined the faculty of Northwestern University in 1994. In 1989 he began touring with the Jim Cullum Jazz Band, narrating the ensemble's concert version of "Porgy and Bess," and in the mid-1990's he performed in a staging of "Showboat.'
A celebrated concert artist and actor, Brother Warfield was named Phi Mu Alpha's 11th "Man of Music" in 1976.
1982 – Sherrill Milnes (Alpha Beta)
Sherrill Milnes was initiated at the Alpha Beta Chapter at Drake University in 1954. He went on to become an internationally acclaimed operatic baritone and was bestowed the title of Man of Music at our 1982 National Convention.
Milnes is renowned for his performances in every major opera house with virtually every leading orchestra in every music capital of the world. He was a leading baritone of the Metropolitan Opera, La Scala, the Royal Opera House at Covent Garden, the Vienna Staatsoper, the Chicago Lyric Opera as well as opera companies located in Paris, San Francisco, Berlin, Hamburg, Salzburg, London, Milan, and Buenos Aires.
In 2000, Milnes helped found VOICExperience, a non-profit foundation designed to help young operatic singers train themselves and experience the real world obstacles in the opera world.
1985 – Clark Terry (Beta Zeta)
A 1968 initiate of the Beta Zeta Chapter at the College of Emporia, Brother Terry was a brilliant jazz musician, composer, and educator. He played with such names as Count Basie, Duke Ellington, Quincy Jones, and was a regular performer with the Tonight Show Band from 1962 to 1972. Clark is also credited with being one of the most recorded jazz artists in history.
Named the 14th Charles Lutton Man of Music in 1985 at the 45th National Convention, Clark graced us with a special version of his signature piece, "Mumbles," that ended with "Hail Sinfonia." He played with an all-star jazz band made up of collegiate and alumni Sinfonians, including Brother John Whitney on piano. It was the first Jazz concert noted at a National Convention, and the original precursor to the 1898 Jazz Orchestra, that is now a regular convention fixture.
1988 – W. Francis McBeth (Alpha Iota)
An initiate of the Alpha Iota Chapter at the University of Texas, Brother William Francis McBeth remains one of the most performed American symphonic wind composers. His works, including such pieces as "Kaddish," "Joyant Narrative," and "Masque," are considered to be standard repertoire for most wind ensembles.
McBeth was Professor of Music and Resident Composer at Ouachita Baptist University in Arkadelphia, Arkansas, from 1957 until his retirement in 1996. As a conductor, he appeared in forty-eight states, three Canadian provinces, Japan, and Australia. He even conducted the Arkansas All-State Band, with future president Bill Clinton playing in the tenor saxophone section.
Up until his death in 2012 and even still, McBeth continues to be a prime musical influence on several American composers. In his lifetime he was honored with several awards including the Howard Hanson Prize at the Eastman School of Music, the ASCAP Special Award, Kappa Kappa Psi's Distinguished Service to Music Medal, the John Philip Sousa Foundations Sudler Medal of Honor, and many others.
Brother McBeth became the Fraternity's 15th "Man of Music" 1988.
1991 – Dave Grusin (Beta Chi)
Grusin was a 1953 initiate of the Beta Chi Chapter at the University of Colorado Boulder and named Phi Mu Alpha's 16th Man of Music in 1991. Brother Grusin has been awarded several Grammys and an Academy Awards for his work as a film score composer.
Dave Grusin is well known for compositions in featured films like "The Milagro Beanfield War," "The Champ," "The Goonies," and "The Fabulous Baker Boys." He has also claimed fame as a talented jazz recording artist and has seen success as a producer/label owner at GRP Records. GRP was named the top contemporary/traditional jazz label of the 1990s by Billboard Magazine.
Recently, the documentary, Dave Grusin: Not Enough Time made its debut. The film features music from Dave Grusin's career and movies, including some unpublished pieces or not very well-known themes from his archives. When reflecting on a life of recording and writing some of Hollywood's most celebrated music, Grusin says, "your music will never be more or less than you are as a human being. That's what it's about."
1994 – William Revelli (Alpha Lambda)
William D. Revelli, an alumnus of the Alpha Lambda Chapter of Phi Mu Alpha at Illinois Wesleyan University, was awarded the Charles E. Lutton "Man of Music" Award in 1994.
Brother Revelli served as the director of the University of Michigan Marching Band from 1935 to 1971. During his term he reinvented the way the university band played and performed, elevating the standard for collegiate marching bands. He was a dedicated, albeit strict director who believed the best way to coach a band was like coaching a football team. He moved college marching bands away from rigid military formations and was the first to make college marching bands synchronize music and movement. Revelli's method gained him international acclaim for this new style of precision.
1997 – Leonard Slatkin (Alpha Alpha)
Brother Slatkin was a 1987 initiate of the Alpha Alpha Chapter and has conducted virtually all the leading orchestras in the world. Born to a gifted musical family, Slatkin began studying conducting with his father, followed by Walter Susskind at Aspen and Jean Morel at Juilliard. An early conducting debut as artistic director and conductor of the New York Youth Symphony launched an extraordinary 50-year career that has earned him six Grammys and thirty-three nominations, rank in the French Legion of Honor, and a U.S. National Medal of the Arts.
Over the years, Slatkin has led several orchestras; highlights include the San Francisco Symphony, the St. Louis Symphony, the Cleveland Orchestra, the National Symphony Orchestra in Washington D.C., and the BBC Symphony Orchestra. He currently serves as Music Director Laureate of the Detroit Symphony Orchestra (DSO) and Directeur Musical Honoraire of the Orchestre National de Lyon (ONL) in France.
At the 49th National Convention in 1997, Brother Slatkin was awarded the Fraternity's Charles E. Lutton Man of Music Award for his outstanding dedication to the arts as a composer and conductor.
2000 – Colonel John R. Bourgeois (Zeta Pi, Alpha Alpha)
Colonel John R. Bourgeois was initiated at Loyola University New Orleans' Zeta Pi chapter in 1956. He is well known for his career with the United States Marine Band that spanned nine presidential administrations and serving as the ensemble's director from 1979 to 1996.
It all began with "The President's Own" in 1958 when he joined as a French Hornist and arranger shortly after joining the Marine Corps. Later, as the ensemble's director, Col. Bourgeois was the Music Advisor at the White House. He selected all the musical programs there and directed the band for four Presidential Inaugurations. He regularly conducted the Marine Band and Marine Chamber Orchestra at the White House appearing there more frequently than any other musician in the U.S.
Since retiring from the Marine Band, Bourgeois has been actively involved in music as a guest conductor, has published new editions of classic band compositions, and was named Phi Mu Alpha Sinfonia's "Man of Music" at the 50th National Convention in 2000.
2003 – Frederick Fennell (Alpha Nu)
Brother Fennell was initiated into the Alpha Nu Chapter at the Eastman School of Music in 1934. As an internationally recognized conductor, Fennell was one of the prominent figures who promoted the legitimacy of the wind ensemble as a major performing group. During World War II, Fennell would serve as the National Musical Advisor for the United Service Organizations (USO).
Throughout his career, Fennel had been the director of several notable orchestras including the Tokyo Kosei Symphony Orchestra. Noted as one of America's most-recorded conductors, he made several recordings with prominent wind ensembles such as the Cleveland Symphonic Winds and Dallas Wind Symphony.
For his immeasurable contributions to American music and tireless promotion of musical programs, Brother Fennell was awarded the Charles E. Lutton Man of Music award at the 51st National Convention in Washington D.C., in 2003.
2006 – Maynard Ferguson (Xi Chi)
An initiate of the Xi Chi Chapter at Tennessee Tech University, Brother Ferguson rose to national fame while a member of Stan Kenton's orchestra and a Hollywood session musician. In 1956, just six years after a feature performance with Kenton's band on "The Ed Sullivan Show," Ferguson formed his own band, which he would lead for a decade. Perhaps most widely known hits like "Birdland" and "Gonna Fly Now" (the theme from the movie "Rocky," nominated for a Grammy in 1977), Ferguson was a master of soaring above his band into the upper register with a tone and timbre uniquely his own.
Ferguson and his band would tour ceaselessly throughout the country and all over the world. He would even make an appearance during the closing ceremony of the 1976 Olympic Games in Montreal, Canada. When it came to his music, Maynard Ferguson had done it all, switching up his musical style throughout his career from big band swing, to cool jazz, to Latin, to jazz/rock and fusion and more.
Brother Ferguson became the 21st recipient of the Fraternity's "Man of Music" Award at the 52nd National Convention in Cleveland, Ohio in 2006.
2009 – Jamey Aebersold (Gamma Omega)
Brother Aebersold was initiated into the Gamma Omega Chapter at Indiana State University in 1976 and is a renowned American jazz saxophonist, educator, and publisher.
In 1967, Aebersold released the first book in his "Play-A-Long" series, a world-renowned series of jazz instructional books that are considered standard for most jazz educators. In his books, he touches on techniques that are regarded as essential building blocks for most jazz musicians. In addition to his series of instructional books, Brother Aebersold has taught musical improvisation at the University of Louisville, where he also hosts a summer jazz workshop that he has led for over fifty years now. At his camp, young jazz students are exposed to master classes, ear-training sessions, jazz theory, and concerts put on by the faculty and the nation's leading artists. With his years of experience in leading workshops and teaching all levels – from novice to pro, it is clear to see why Aebersold is the world leader in jazz education.
For his dedication to the art form and tireless promotion of American music, Jamey Aebersold was awarded Phi Mu Alpha's "Man of Music" award at the 54th National Convention in Orlando, Florida in 2009.
2012 – Carlisle Floyd (Epsilon Iota)
Brother Floyd was initiated into the Epsilon Iota Chapter at Florida State University in 1957. Today, he is one of the most admired and widely performed opera composers and librettists of the last century.
Known as the "Father of American Opera," Floyd is credited with helping to create an American idiom in opera. His most famous work, Susannah, has become one of the most performed American operas in history. The opera, having debuted in 1956, in 1957, won the New York Music Critic's Circle Award and subsequently was chosen to be America's official operatic entry at the 1958 Brussels World's Fair. Susannah has gone to achieve fame both in the United States and internationally. Other well-known works by Floyd include Of Mice and Men and Cold Sassy Tree.
In 2012, Brother Floyd became Phi Mu Alpha's 23rd "Man of Music" at the 54th National Convention in Orlando, Florida.
2015 – Ellis Marsalis, Jr. (Delta Epsilon)
Brother, Ellis Marsalis, Jr. who is regarded by many as the premier modern jazz pianist in New Orleans. Brother Marsalis was initiated at the Delta Epsilon Chapter in 1965 and in 2015 he was named the Fraternity's 24th "Man of Music" at the 55th National Convention.
Born on November 14, 1934, his formal music studies began at age eleven at the Xavier University junior school of music. After high school, Marsalis enrolled in Dillard University as a clarinet major. He graduated in 1955 with a Bachelor of Arts degree in Music Education. Marsalis spent the next year working as an assistant manager in his father's motel business.
The following year, Marsalis joined the U.S. Marine Corps. While stationed in southern California he honed his pianist skills as a member of the Corps Four, a Marines jazz quartet that performed on television.
Returning to New Orleans in 1966, he began freelancing on the local music scene. Between 1966 and 1974 Brother Marsalis would perform at the Playboy Club, Al Hirt nightclub, Lu and Charlie's nightclub, Storyville nightclub Crazy Shirley's as well as again enter the teaching profession, in 1967, as an adjunct professor of African American Music at Xavier University.
In 1986, Marsalis accepted a teaching position out of state. He became a Commonwealth Professor at Virginia Commonwealth University, serving as coordinator of Jazz Studies two of his three years there. In 1989, he returned to New Orleans to become the first occupant and Director of the Coca-Cola Endowed Chair of Jazz Studies at the University of New Orleans.
During his tenure at UNO, he helped colleague Charles Blancq develop a campus performance center called the Sand Bar. Marsalis would also develop a Jazz Orchestra, which he took, on the eve of his retirement, on a tour of Brazil. On August 10, 2001, Marsalis officially retired from the University of New Orleans after twelve years of dedicated service. His retirement was celebrated by a very rare performance of his sons Branford, Wynton, Delfeayo and Jason Marsalis at the UNO arena.
In 2011, Brother Marsalis and his family were awarded the highest honor in Jazz, NEA Jazz Masters, the first group award ever distributed by the National Endowment for the Arts.
2018 – Daniel E. Gawthrop (Xi Mu)
Composer Daniel E. Gawthrop was born in 1949 in Fort Wayne, Indi­ana. He has been the recipient of over one hundred commissions to write original music. His published choral and organ works are in the catalogs of Dunstan House, Alfred Publishing, Alliance Music and others. His a cappella motet Sing Me to Heaven is among the most frequently performed choral pieces of modern times and has sold more than a half million copies.
Gawthrop's music has premiered in the Concert Hall of the John F. Kennedy Center for the Performing Arts, the Salt Lake City Mormon Tabernacle, and Washington National Cathedral among dozens of other prestigious venues. His choral pieces have been performed and recorded by such eminent ensembles as The United States Air Force Singing Ser­geants, the Gregg Smith Singers, the Turtle Creek Chorale, the Paul Hill Chorale, the American Boychoir, the Mormon Tabernacle Choir, the Cathedral Choral Society (of Washing­ton National Cathedral) and literally hundreds of other groups in the U.S. and abroad.
In addition to his work as a composer, Gawthrop has been active as a broadcaster, clinician and adjudicator, organist, conductor, teacher and writer, including a period as music critic for The Washington Post. Gawthrop is a Life Member of the American Choral Directors Association and a member of The American Guild of Organists.
Gawthrop resides with his wife in southern Idaho a few hours from Yellowstone National Park and approximately halfway between Yosemite and Glacier National Parks.