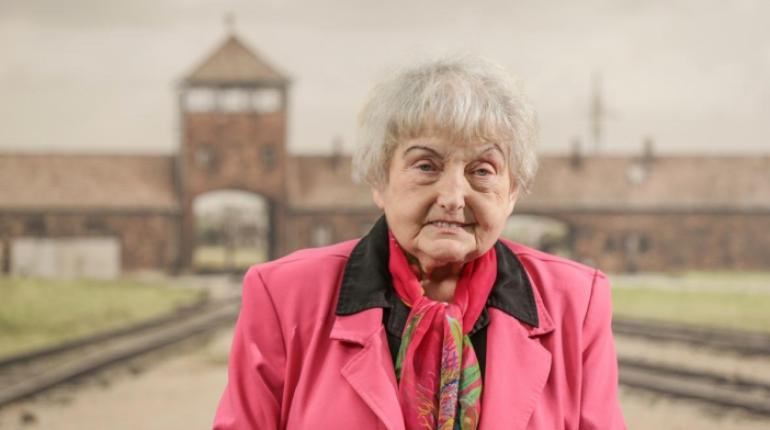 "I want my time on this earth to count for something."
Phi Mu Alpha Sinfonia joins Indiana and the world in mourning the passing of Eva Mozes Kor (January 30, 1934 – July 4, 2019), who passed away peacefully at the age of 85 in Krakow, Poland, while leading the annual educational summer trip of the CANDLEs Holocaust Museum and Education Center to Poland. She made this trip each year to share her childhood experiences at the Auschwitz-Birkenau concentration camp and to give tours from her perspective as a Holocaust survivor.
We celebrate her indomitable spirit, and honor her tireless efforts to promote tolerance and humanity, and to teach others the power of the human spirit to endure and overcome tragedy, find forgiveness and heal the wounds of anger.
A resounding message of hope and healing found its foundation in Eva's own words. "I discovered I had one power. What I tell everybody is that you – any victim, any person hurt – you have the same power. You have the power to forgive. And what it does, forgiveness, has nothing to do with the perpetrator. It has everything to do with the way the victim feels."
Eva Mozes was born in Port, Romania. Her family were farmers, and the only Jewish residents of the area. At only five years of age, Eva and her twin sister, Miriam, were separated from their family and subjected to cruel, monstrous and inhumane torture at the hands of Dr. Josef Mengele, whose "experiments" injected approximately 1500 sets of twins with germs and other unknown substances to study the effects in an effort to increase the birth rate of an Aryan master race. As Eva recounts, during the mass confusion, her parents and two elder sisters were torn away from her within minutes of arriving at Auschwitz and perished in its gas chambers. Eva and her sister Miriam would not truly understand the horrors they experienced until years later.
When the Soviet Army liberated Auschwitz on January 27, 1945, they found approximately 180 children alive, most of whom were twins, including Eva and Miriam Mozes. The children were first sent to a convent in Katowice, Poland, which was being used as an orphanage. The girls eventually relocated to Cluj, Romania where they lived with their Aunt Irina, who was also a survivor. In 1950, when they were 16, they received permission to leave Romania and emigrate to Israel, where both served in the Israeli Army.
In 1960, Eva married Michael Kor, an American citizen, and a fellow Holocaust survivor, and relocated with him to Terre Haute, Indiana. Eva spoke no English when she arrived. It was hard to adjust to life in America, where she was thousands of miles away from Miriam, the only person who truly understood the suffering she had endured. This became even more difficult when her adopted community began to reject her, and her family was victimized by bullying. It was not only Eva that suffered from long term repercussions of Auschwitz; Miriam's kidney health would begin to deteriorate in the late 1980s due to the multiple chemicals that were injected into her body by Nazi doctors. By 1987, her kidneys would fail, but Eva made a choice to donate her left kidney to save her sister's life. "It was an easy choice," she said, "I have two kidneys, but only one sister." Tragically, without any medical history or knowledge of what had occurred at during the Auschwitz experiments, Miriam would pass away in June of 1993 after developing bladder cancer.
Following the broadcast of a TV miniseries called 'Holocaust' in the 1970s, Eva began to tell her story publicly. However, in the early 1990s, following Miriam's death, a chance call from a Boston professor and a single letter of forgiveness changed her life forever.
This video clip documents Eva's story of survival and her discovery of the power of forgiveness to heal the human spirit.
"I discovered that I had the power to forgive. No one could give me that power, no one could take it away, it was all mine to use in any way I wished. That became an interesting thing because as a victim of almost fifty years I never thought that I had any power over my life."
A Message of Forgiveness, Unity, and Hope
Eva Kor founded Children of Auschwitz Nazi Deadly Lab Experiments survivors (CANDLEs) in 1984. She later opened the CANDLEs Holocaust Museum and Educational Center in 1995 to prevent prejudice and hatred through education about the Holocaust. Sadly, the museum was destroyed by an arsonist in 2003. Eva vowed to rebuild, and was able to raise public donations to reopen the museum in 2005.
Eva spent the latter half of her life sharing her story with students, teachers, doctors, senators, historians, and civic groups both in the United States and abroad.
Named a Living Legend in Indiana, Mrs. Kor was awarded the Sachem, the state's highest award, in 2017. Her achievements were recognized by four Indiana governors. Eva was twice presented the Sagamore of the Wabash Award, and also received the Distinguished Hoosier Award in addition to the Sachem. Her advocacy led to the passage of a law requiring Holocaust education in Indiana secondary schools in 2007. Indiana Governor Eric Holcomb said "The world just lost a giant with Eva Kor's passing. Everywhere she went, Eva brought light into darkness and provided comfort to those in pain unlike anyone we've ever met."
In a statement released shortly after learning of Mrs. Kor's death, CANDLEs stated that "The themes of Eva's life are apparent. We can overcome hardship and tragedy. Forgiveness can help us to heal. And everyone has the power and responsibility to make this world a better place. We hope Eva's story continues to change the lives of those who hear it for many years to come."
Learn more about Eva's story, and the CANDLEs Holocaust Museum and Education Center by visiting https://candlesholocaustmuseum.org/