Last year, Yamaha launched the "40 Under 40" music education advocacy program to celebrate and recognize outstanding music educators who are making a difference by growing and strengthening their music programs. These remarkable teachers share the joy and power of music-making with their students who range from transitional kindergarteners to college undergrads.  
We are proud to share that seven of our Brothers have been recognized in the 2022 class that Yamaha recently announced. This group of music educators triumphed before and during the pandemic to keep their programs thriving.   The Brothers of Phi Mu Alpha offer hearty congratulations to all the men and women who have been selected as part of the 2022 class. 
See what Yamaha has to say about our Brothers they selected for the list below.
Dr. Robert Bryant – Eta Xi Chapter (Tennessee State University) 2021
Music Education Coordinator and Assistant Professor of Music – Tennessee State University
A third-generation music educator, Robert Bryant grew up singing in church and playing several instruments at a young age. "I always knew the power that music had in shaping identity and inspiring hope," he says.
His passion for teaching others started as a high school drum major and section leader, and in college, that passion became more focused — Bryant wanted to work and serve in those areas that need him the most: marginalized and often forgotten communities of color. While working in urban areas like metro Atlanta and in rural settings like Americus, Georgia, Bryant "found my voice and purpose as a teacher by working with students who I saw a piece of myself in and who saw a piece of themselves in me." At Tennessee State University (TSU), he helps his students find their voice and gives them the strategies, tools and techniques that will help them thrive as music teachers.
Prior to working at the collegiate level, Bryant worked as a band director at Miller Grove High School and Stockbridge Middle School where he increased enrollment in band by at least 20%. He also had his bands participate in solo and ensemble festivals for the first time.
"I am a data-driven teacher with a personalized approach for each and every student," Bryant says. "Many of my students have made district and all-state ensembles, and my high school senior classes regularly amassed more than $1 million in music scholarship offers at colleges and universities throughout the country."
In addition to his work at TSU, Bryant is a guest lecturer and capstone supervisor for the master's in curriculum and instruction degree at Florida A&M University, his alma mater. "It is my goal to work with these students to help them continue their education, transform their knowledge and experiences into research-based and data-driven instructional praxis, open their eyes to the possibilities they have with a graduate degree, and help them develop curricula and instructional techniques that allow them be better teachers to their students, as well as leaders within their school," he says.
Bryant credits his "truly awesome" students for his success. "They have allowed me to push them when others had relegated them to lowered expectations and did not believe in their greatness," he says. "They have embraced my ideas and approaches that sometimes were different and outside of their experience."
Dr. Nathan Dame – Xi Chapter (University of Kansas) 2007
Director of Choral Activities and Fine Arts Department Chair – Wylie East High School
Described as an "empire builder," Dr. Nathan Dame says it's all about inspiring and enabling those around you to find musical success and to become empowered stakeholders throughout the building process. "When I accepted the position at Wylie East High School, my co-director — I am blessed to teach with my wife and better half every day! — and I built a strategic plan grounded in the musical, social and interpersonal values of what we wanted our program to look like, how we wanted our students to sing, how they would hold themselves in the school and community, and how we wanted to involve others in the process," he says
They revisit the strategic plan each year and make necessary changes as the program grows — which it has! The program now includes 300 students in 10 choral ensembles. A third full-time choral director has been hired at Wylie, and a staff member was added to the feeder programs at the middle schools.
A key to the growth of the choral program is Dame's recruitment and retention efforts, which are grounded in three main areas: 1) musical success, 2) visibility and 3) strong relationships with students. "I have been fortunate to work in three different schools where enrollment has tripled," he says. "Our goal is to create an inclusive environment for all students where we create outstanding music, share it with others frequently and purposefully, and care about our students as people before musicians."
Each year, Dame creates a theme for the choral program. The first year's theme was "Elevate," which focused on the development and expectations of exemplary musicianship. Subsequent themes have been "Ignite" to spark the fuel within each student, and "Odyssey" as everyone navigated the unknown challenges of the pandemic. "Breaking Ground" is this year's theme as the choral program opens a new facility and will travel internationally for the first time.
The fine arts building expansion was supported by a bond proposal and the district administration. "Our superintendent of schools was quick to say, 'students don't come to school for algebra … they come to school for fine arts and other programs,' and he put his money and actions where his mouth was," Dame says.
The new facility has a large choir room with skylights, new computers and sound technology, recording equipment, seated risers, equipment and uniform storage, two offices and six practice rooms. Additionally, there is a specific ensemble room where three sections of classes can overlap, which are outfitted with portable risers, and pedagogical and technological tools.
"I am inspired daily with our program and what it has become," Dame says. "After our recent winter concert, a staff member came up to our team and said, 'You promote excellence from every student and it is so neat to see.' This makes me so proud, and I feel that our expectation of excellence at all levels is evident in our program's results at contests and in concert."
Alain Goindoo – Epsilon Iota Chapter (Florida State University) 2001
Director of Bands – Jeaga Middle School and Executive Director – Hope Symphony INC
Alain Goindoo created Hope Symphony to provide access to music, tools, and resources to children and families from communities in need. "I wanted to bring hope for the future and level the playing field," he says. "Hope Symphony brings together a village of difference-makers who provide essential resources, equipment, personnel, camps and life-changing opportunities that would otherwise pass by these children due to lack of access."
The Hope Symphony Summer Band Camp was established in 2017 and serves approximately 100 Title I students. "The purpose of the camp is to promote more than music proficiency — the camp generates excitement for learning and gives hope for their future one note at a time," Goindoo says.
Students at camp receive music lessons from qualified instructors, free food, method books and equipment. They engage in successful learning on a college campus with their peers. The camp experience provides college readiness skills and establishes the idea that the pursuit of a higher education is a reality and something that they can achieve.
In a "40 Under 40" nomination letter, Goindoo, who is also Jeaga Middle School's band director, is described as a nurturer who is touted for putting children who live in communities affected by drugs and gun violence on a "completely alternate trajectory thanks to music."
"We create a safe space for students to learn and grow, as well as set goals that give them ownership, a sense of pride, value in themselves and their work, and, most importantly, a place to belong," Goindoo says. "As music teachers, we find our students' passion for music and nurture that passion through developing effective rigorous programming, building healthy and meaningful relationships, teamwork, leadership development, setting goals, learning to never give up and preparing them for college readiness — all this on top of building music proficiency!"
Goindoo has raised more than $380,000 in grants to support music education. "I pray, then I work diligently outside of school hours writing grants, raising awareness and building community relationships with parents, local universities, city and county officials, and nonprofit organizations to meet the needs of the children. After explaining the needs and showing how the resources will be used, most people want to help," he says.
Dr. Justin Moniz – Theta Iota Chapter (SUNY – Potsdam) 2008
Associate Director of Vocal Performance, Coordinator of Vocal Pedagogy – New York University
Taking a class taught by Justin John Moniz is an experience you won't soon forget. "I work to create a classroom environment that in many ways parallels that of a theater. I rehearse my lectures, tech my visual aids and spend considerable time working through my pacing and transitions," he says. "I venture to create interactive, thoughtful and immersive pedagogical experiences, which enable students to take an 'intermission' from the outside world in order to discover their truest potential."
The vocal pedagogy program at New York University (NYU) — The Steinhardt School of Culture, Education and Human Development is unique because it explores the "intersection of psychological health, the arts and communication," Moniz says. "Our work enables us to build bridges and connect people around the globe by way of vocal music and individual expression."
Moniz started the NYU Steinhardt Vocal Pedagogy Outreach Program to provide a platform for his graduate students to put their theoretical work into practice by working and engaging with disadvantaged communities across the state.
"The mission of the program parallels that of NYU Steinhardt: To advance the education, health and well-being of people and communities around the world. We achieve this by fostering knowledge, creativity and innovation at the crossroads of culture, education and human development," he explains. "The graduate students in the vocal pedagogy program devised five unique workshops surrounding the themes of vocal efficiency and sustainability, technique versus style and vocal health. Each of the workshops engaged students in various virtual modalities."
Moniz plans to continue to develop the vocal pedagogy program, and "I hope to broaden our reach by facilitating workshops with a growing number of geographically, culturally and economically disadvantaged communities across New York State," he says.
Observing the impact of his teaching and mentorship when his students find success in their own teaching, research or performance pursuits "inspires me to be a bigger, bolder and braver lifelong learner myself," Moniz says.
Ben Rogers – Kappa Psi Chapter (Western Illinois University) 2013
Director of Choirs – Liberty Middle School
Empowering students to lead, embrace new ideas with a positive attitude, and actively support one another are the foundations of Benjamin Rogers' vocal program at Liberty Middle School. "We recently added a 'Choir Shout-Out Wall' in our classroom where students can give their peers compliments, and the focus on building community helps rehearsal attitude and retention," he explains.
Rogers established a Choir Leadership Council for each choir, which has four main roles to help classes run successfully: 1) Directors Assistants typically lead the class through kinesthetic and vocal warmups and literacy activities; they also run choral rehearsals when Rogers is absent. 2) Secretaries take attendance and oversee any organizational aspects of the choral classroom, from numbering scores to collecting them after a concert cycle. 3) Marketing Chairs are the go-to's for fundraising efforts and the group's social media. 4) Wardens encourage singers to meet classroom expectations and handle any emergencies.
But the biggest change Rogers implemented was creating and getting approval for four voice-based choir tracks — beginning, intermediate and advanced treble, and advanced bass — instead of grade-level choirs. During the prior academic year, the school piloted an advanced mixed choir with a beginning treble and beginning bass choir. "With a strong recruitment initiative, our numbers grew in size to accommodate the four voice-based choirs," Rogers explains. "Our school has a fantastic counseling team that supports our music program wholeheartedly and forms our master schedule around our ensembles."
This shift from grade-level to voice-based choirs was done not only at Liberty, but throughout the district, which "means that our community is empowering our arts programs and paving the way for higher-achieving music ensembles," Rogers says. "We are able to differentiate our instruction for the different levels and types of voices in each choir in a more efficient way than when all students are clumped together as part of a grade-level choir."
With such innovative changes, it's no wonder that choir numbers have more than doubled — even in the midst of a pandemic. Rogers has strong, year-round recruitment. "Our choirs record and send 'virtual letters' to our feeder schools with our choirs singing, we've done choral pen-pals, we share our concerts with our feeder schools, and I join our counseling team on visits to the elementary schools," he says. "After initial registration, I call every incoming 6th-grade family to encourage them to join one of our music programs at Liberty. We also recruit from our current student population with bring-a-friend-to-choir events, and I recruit from teaching a 6th-grade general music class to students who aren't in a music ensemble."
Armond Walter – Lambda Gamma Chapter (Edinboro University of Pennsylvania) 2006
Director of Instrumental Music – Meadville Area Middle School and Meadville Area Senior High School
Instrumental Music Director Armond Walter weaves some of the valuable lessons he learned from his mother — for example, "you define what success looks like" and "it's not always about winning, rather what you learn or how you grow in the process" — into his classrooms at Meadville Area Middle School and Meadville Area Senior High School. "I tell my students to 'do your best,'" he says. "While this mostly pertains to auditions and performances, it is something they can use in all other aspects of life. We discuss that there's always room for growth, and we should be constantly evaluating ourselves to not only be better musicians, but better individuals."
Walter knows that activities, teachers and peer relationships are some of the strongest incentives for students to come to school and do well. "Music is my avenue to connect with a broad range of students who can feel at home in my classroom because they are comfortable to be themselves without fear of judgment," he explains.
However, during the COVID-19 pandemic, going to school was not an option. At that time, Walter was the president of the District 2 chapter of the Pennsylvania Music Educators Association (PMEA), and he worked with other directors in his area to brainstorm and share ideas following the release of a national performing arts aerosol study and how to minimize the risk of COVID transmission.
"There was a basic plan created that each director could customize to best fit their program and school district," Walter says. "While the results of our efforts varied across the area, many schools were able to continue with in-person rehearsals for jazz band, concert band, orchestras and other ensembles. For those who were not able to return to performing right away, we facilitated Zoom meetings to ask questions and discuss what directors could do to keep students engaged."
While Walter was earning his master's degree, he was told to advocate for his students because "someone was once an advocate for you or else you wouldn't be here." This pay-it-forward approach is something Walter takes to heart. "The achievements we see in our department are not influenced by one person, but many," he says. "Through band, chorus, orchestra and drama, we work to offer our students a variety of opportunities that they enjoy and take ownership of."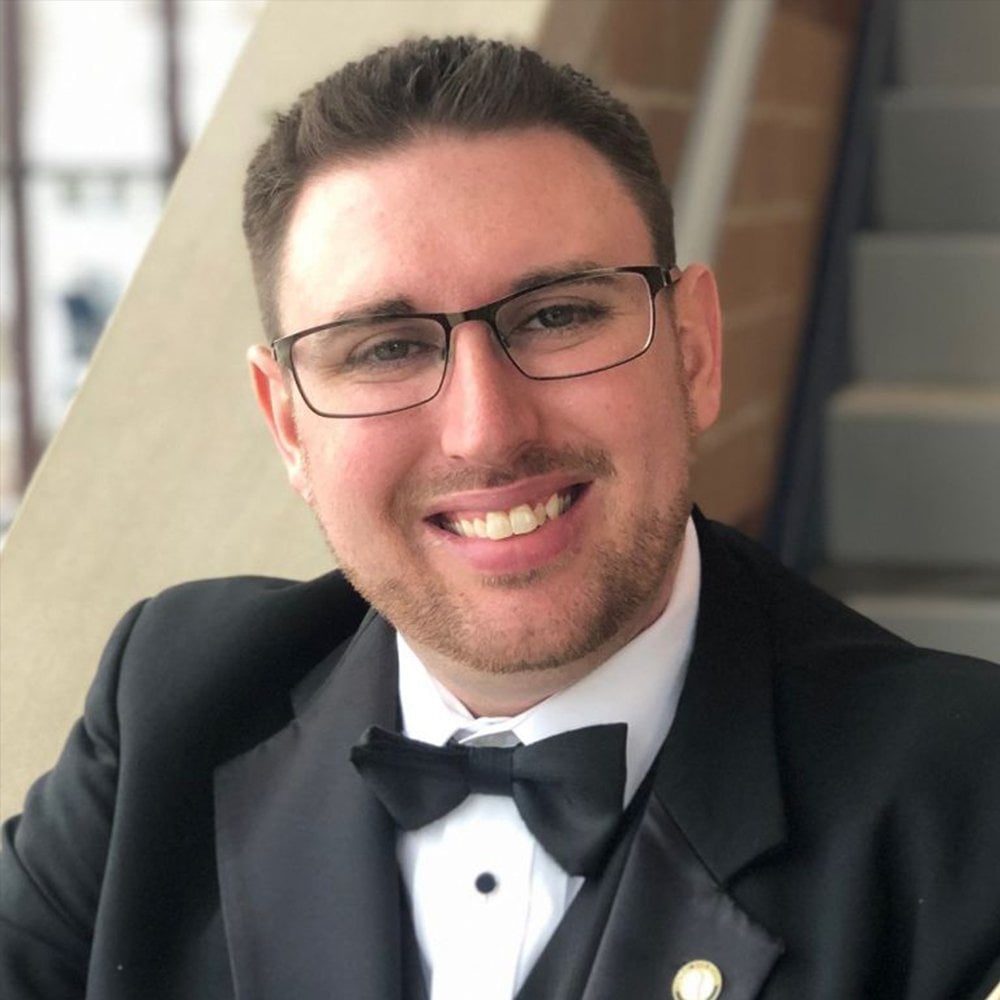 Alex Wilga – Xi Kappa Chapter (VanderCook College of Music) 2006
Director of Bands – Davenport Central High School
The Davenport Central High School band has a 136-year history, and Alexander Wilga is only the school's eighth head director. "I am incredibly proud and very humbled that I get to work where I do," he says. "The band program means so much to the community, and we do everything we can to give back to our area and make those who came before us proud. I know that I am just a placeholder, and my job is to make sure the program is in better shape when I am done than when I started."
One way Wilga is doing this is by growing band enrollment to more than 240 students. "Our biggest recruiting success has been fostering a strong relationship with our junior high band program," he says. "We participate in our 7th- and 8th-grade band rehearsals, we invite the junior high concert bands and jazz bands to share concerts with the high school, we share a halftime performance during the marching season, and we share our first public performance of the year called the Ice Cream Social, which happens on the third day of school."
Wilga also focuses on retaining high school students by making sure that every student has a voice in the direction of the program and by providing more participation options for students. "We require every band student to be in concert band but from there they can choose to be in marching band, jazz band, color guard, winter guard, show choir band, brass choir, woodwind choir, percussion ensemble, steel drum band, as well as a whole host of solo and ensemble opportunities," Wilga says.
The biggest change that positively affected enrollment numbers was that the financial burden of band participation was taken away from Davenport Central families. "We are a 75% free and reduced lunch district, so asking families to spend money to rent or purchase an instrument can put music education out of reach for many of our students," Wilga explains.
He was involved in coordinating a proposal that secured guaranteed funding for music programs across the district. "I can be very persistent when I have to be," Wilga admits. "I was very fortunate to have an amazing associate superintendent who knew how important the arts are to our students and our community. It was also wonderful — and risky! — to stand as a united district music department and tell the school board that we would no longer be able to provide music programs if there wasn't going to be district funding." Thankfully, the gamble paid off.
Wilga goes on to say, "I am always pushing for my students to have every experience that is possible through band. I don't want them to worry about quality instruments, quality facilities, adequate funding or the other administrative things that come with a large program. I don't want students to have a single roadblock so that they are free to become the best versions of themselves that they can possibly be."
A final note from Wilga: "The machine that slices bread was invented in Davenport, so you are all welcome!"