Expanding our National Partnerships
In October 2018, the National Executive Committee charged the National Staff with strengthening our existing partnerships and exploring new partnership opportunities that would align with Sinfonia's Object and mission. Phi Mu Alpha currently maintains National Partnerships with Drum Corps International, Barbershop Harmony Society, and the National Association for Music Education.
Phi Mu Alpha Sinfonia Fraternity of America seeks to develop National Partnerships with organizations whose missions and purposes align with the Fraternity's Object. The Fraternity enters into National Partnerships both as an way to support Brother Sinfonians who participate in those organizations and as a means of providing benefits, performance opportunities and alumni engagement vehicles for our members.
We are proud to announce that TAPS for VETERANS will join us as our newest National Partner. TAPS for VETERANS is an organization dedicated to providing buglers and trumpeters to play Taps for our country's fallen heroes. While cuts to military music budgets have increased over the years, TAPS for VETERANS and their group of volunteers sacrifice their time to bring comfort and peace to the veterans' families, friends, and loved ones by playing our country's "National Song of Remembrance" at funerals and special ceremonies.
Brothers and friends are encouraged to offer their talents and services by volunteering with TAPS for VETERANS.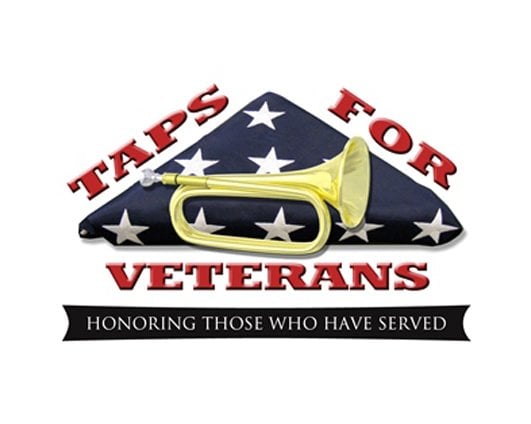 About TAPS for VETERANS
TAPS FOR VETERANS provides an opportunity for buglers or trumpet players to sound Taps for military veterans' funerals and ceremonies. With the military unable to provide live buglers for every military funeral and ceremony, TAPS FOR VETERANS secures volunteers to provide that much-needed service.
TAPS FOR VETERANS is an organization led by former military musicians and active and retired military veterans who acutely understand the importance of properly sounding Taps, our "National Song of Remembrance," as a way of expressing the nation's gratitude for a veteran's service.
TAPS FOR VETERANS seeks buglers and trumpet players from across the country. Volunteers may be former or active military members, civilians, students or professional musicians. Ultimately, the organization would like to involve buglers with a strong desire to serve our nation.
About the Co-Founder
When we first reached out to inquire about entering into a partnership with TAPS for VETERANS, it was wonderful to learn that one of the co-founders is also a Sinfonian. Brother Jari Villanueva was initiated at the Kappa Chapter at the Peabody Institute in 1974 and is currently considered the country's foremost expert on military bugle calls, particularly the call of Taps which is sounded at military funerals.
Brother Villanueva is retired from the United States Air Force, where he spent 23 years with The USAF Band in Washington, DC. While in the Air Force, he was the Non-Commissioned Officer In Charge (NCOIC) of The USAF Band's State Funeral Plans and was the NCOIC of the command post at Andrews AFB which oversaw the arrival and departure ceremonies for the late Presidents Reagan and Ford. As a ceremonial trumpeter, Brother Villanueva participated in well over 5,000 ceremonies at Arlington National Cemetery, and served as an assistant drum major leading The USAF Ceremonial Brass in funerals at Arlington. He was responsible for all the music performed by the USAF Bands for state funerals. Between 1998 and 2002, Brother Villanueva created a display at Arlington National Cemetery highlighting the history of the military bugler. He was responsible for moving the bugle used at President John F. Kennedy's funeral from the Smithsonian to Arlington, where it is currently on display. In 2007, Brother Villanueva was inducted into the Buglers Hall of Fame, the first active duty military bugler to be so honored.
From 2008 to 2017,  Brother Villanueva worked for the Maryland Military Department, serving as the Director of Veterans Affairs, Maryland National Guard Honor Guard (MDNGHG). The mission of the MDNGHG is to provide Military Funeral Honors to Armed Forces Veterans in Maryland. The Honor Guard performs over 3,500 ceremonies each year. He is also retired as a conductor/commander of the Maryland Defense Force Band and retired at the rank of Lt Colonel (MDDF) in the Maryland Military Department.
Brother Villanueva's military awards and decorations include the Meritorious Service Medal with one oak leaf cluster, the Air Force Commendation Medal, an Air Force Achievement Medal with three oak leaf clusters, an Air Force Good Conduct Medal with six oak leaf clusters, the National Defense Service Medal with one service star, the Global War on Terrorism Service Medal, the Maryland Distinguished Service Cross, the State of Maryland Meritorious Service Medal and the State of Maryland Commendation Medal with one oak leaf cluster.
Jari Villanueva is a graduate of the Baltimore Public School system and earned a Bachelor of Music Education degree in 1978 from the Peabody Conservatory of the Johns Hopkins University. In 1984 he received a Master of Music degree from Kent State University, Ohio. He is also a 2006 graduate of the Air Force Senior Non-Commissioned Officer Academy.
From 1998 to 2010, Brother Villanueva was an adjunct professor in the Music Department at the University of Maryland, Baltimore County, where he served as Director of Bands. A Civil War historian and re-enactor, Jari is an Artistic Director of the National Association for Civil War Brass Music, Inc., where he directs and leads The Federal City Brass Band and the 26th North Carolina Regimental Band, recreated regimental bands of the Civil War era. He also sounds bugle calls at many re-enactments. In addition, he is the music director for the National Civil War Field Music School where students learn to play fife, drum and bugle.
Brother Villanueva is also a member of the American Legion Post 109 in Arbutus, Maryland, the Air Force Musicians Association, the Maryland Historical Society, the Maryland Military Historical Society, and an associate member of the Society of the Honor Guard, Tomb of the Unknown Soldier. He is married to Heather Faust and resides in Catonsville, Maryland.
To learn more about Brother Villanueva, check out his blog at tapsbugler.com